Yoko (ヨウコ Yōko) is a member of the Moonlight Divinities, a group of underlings that follow Selene.[1]
Appearance
Yoko has an old Japanese western design, wearing a yukata, along with kitsune-like facial features and unique old fashioned hairstyle.[1]
Personality
Yoko has a somewhat demeaning personality, only holding her fellow Moonlight Divininites and Selene in high regard but belittling any one else.[1]
History
At some point in time, Selene recruited her to be her bodyguard, becoming a Moonlight Divinity.[1]
Synopsis
100 Years Quest arc
Spirit Arts and Abilities
Demons' Parade (百鬼夜行 Hyakkiyakō): Yoko is able to use this Spirit Art that uses Spiria to manifest it. With it she can summon an infinite amount[2] of Yokais made of Spirit Arts that can only be destroyed by the same type of attribute.[3] She can also use this power to transform other beings, like humans and Exceeds, into a Yokai.[4]
Ittan-Momen (一反木綿 Ittan Momen): Yoko summons a cloth monster that has strong resistant bandages.[5]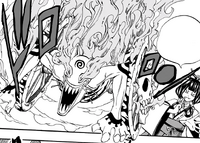 Smoke Warrior (煙煙羅 Enenra): Yoko summons a cloud-like Yokai that releases smoke in its attacks.[5]
Nure-Onna (濡れ女 Nure-onna): Yoko can summon a humanoid Yokai with an upper-body of a female human with scales on its shoulders and arms as well as a lower body of a snake as well as transforming Lucy Heartfilia into one.[6][4]
Bakeneko (化け猫 Bakeneko): Yoko can summon a humanoid Yokai with the features of a human with the ears, whiskers, tail, and paws of a cat as well as transforming Wendy Marvell into one.[7][4]
Suiko (水虎 Suiko): Yoko can summon large, tiger-like Yokais as well as transforming Happy and Carla into one.[8][4]
Spider Woman (女郎蜘蛛 Jorōgumo): Yoko can summon a humanoid Yokai with an upper-body of a female human and a lower body of a giant spider as well as transforming Erza Scarlet into one.[9]
Inhuman Path: Ohmagatoki (外法・逢魔時 Gehō Ōmagatoki): Yoko transforms into humanoid Yokai with a pair of large horns on her head, a pair of pointed ears, two pair of arms wielding swords on each hands and black line designs all over her body.[10]
Yokai Form: While under the effects of her Demons' Parade spell, Yoko transforms into a Yokai called Ōmagatoki. While in this form, Yoko gains that Yokai's various features and abilities.[11]
Expert Swordsmanship: While in this form, Yoko gains the ability to effectively use multiple swords against Erza.[12]
Expert Staffmanship: Despite not using it for actual combat, Yoko is proficient and dexterous enough with her staff to be able to parry Erza's attack.[13]
Flight: Yoko possesses the ability to fly through the air through unknown means.[14]
Equipment
Khakkhara: Yoko is able to summon and wield this staff to block incoming physical attacks.[13]
Paper Dolls: Yoko uses multiple paper dolls to create duplicates of herself in order to evade and confuse her target.[15]
Battles & Events
Erza Scarlet & Wendy Marvell vs. Yoko

Team Natsu & Aquarius vs. Yoko
Trivia
The name "Yoko" can also mean "child of light". Her title in Japanese is an expression that means "night parade of 100 demons".
References
↑

Fairy Tail: 100 Years Quest Manga: Chapter 78, Page 10

↑

Fairy Tail: 100 Years Quest Manga: Chapter 73, Pages 18-20

↑

Fairy Tail: 100 Years Quest Manga: Chapter 74, Page 10

↑

Fairy Tail: 100 Years Quest Manga: Chapter 74, Page 13

↑

Fairy Tail: 100 Years Quest Manga: Chapter 76, Pages 13-14

↑

Fairy Tail: 100 Years Quest Manga: Chapter 79, Page 8

↑

Fairy Tail: 100 Years Quest Manga: Chapter 79, Pages 8-9

↑

Fairy Tail: 100 Years Quest Manga: Chapter 79, Pages 9-10

↑

Fairy Tail: 100 Years Quest Manga: Chapter 77, Page 17

↑

Fairy Tail: 100 Years Quest Manga: Chapter 78, Pages 15-17