Wraith (レイス Reisu) was a Fifth Generation Dragon Slayer and former member of Diabolos, a guild of dragon eaters.[1]
Appearance
Wraith has white short unkempt shoulder-length hair and pupilless eyes. He wears a long cloak with a hood and a black collar around his neck.[2]
Personality
History
At some point, Wraith became a Dragon Slayer with the properties of a Spirit Dragon, which enabled him to take on their power.[3]
Wraith was originally a member of Fairy Tail, being in the same generation as Makarov. However, on his way to work, Wraith became gravely injured by monsters and was rushed to Porlyusica in the guildhall, but by then he could not be saved from his mortal wounds. In his final moments, Makarov pleaded to Wraith to remember their guild bond as a family before the latter passed on.[4]
After death, his spirit lingered, but he had lost his memories from when he was alive. In his amnesic state, Wraith started to believe he was murdered as he could not pass on. Eventually, he joined Diabolos, a guild exclusively comprised of fifth generation Dragon Slayers that are among those who can see him. He wanted to gain power and enact revenge on his supposed killer.[5]
Synopsis
100 Years Quest arc
Wood Dragon God arc
Magic and Abilities
Spirit Dragon Slayer Magic (霊の滅竜魔法 Rei no Metsuryū Mahō): Wraith is able to use this Magic that allows him to gain the abilities and characteristics of a Spirit Dragon, with this Magic Wraith gains a spiritlike ability to not to be heard or seen by anyone other than a Dragon or a Dragon Slayer.[6] He can also use the souls of the dead as a means of attack,[7] become intangible like a spirit, giving him an immunity to any corporeal attacks,[8] be able to fly off the ground and traverse areas,[9] phase through obstacles, and still able to inflict physical damage to his target whenever he chooses. However, his immunity is ineffective against other beings that also have an ethereal form.[10]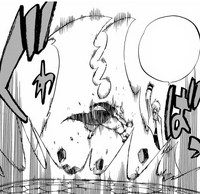 Dragon Spirit (竜の魂 Doragon Supiritto): Wraith can create a large soul-like dragon mouth that renders the target immobile and causing damage with the souls of the dead before engulfing them in a fiery explosion.[11]
Possession (憑依 Hyōi): This spell allows Wraith to possess a living being while depending on the synchro rate his abilities can be enhanced.[12]
Dragon Force (竜の力 Doragon Fōsu): Like all Fifth Generation Dragon Slayers, Wraith has the ability to use Dragon Force. However, the use of it is forbidden as it differs from the previous generations.[13]
Quotes
Battles & Events
Natsu Dragneel vs. Wraith
Trivia
In the translation notes section of FT100YQ Volume 5 it was stated that the previous translation, Reiss, was incorrectly translated; with the true translation being "Wraith".[14]
References