Welcome to Natsu's House is an extra story of Fairy Tail by Hiro Mashima.
Lucy finally finds Natsu and Happy's house and decides to pay them back for their unannounced visits to her house. However, she finds that it is poorly maintained. But she also sees that they have taken good care of things that hold memories, and decides to clean their house for them.
Summary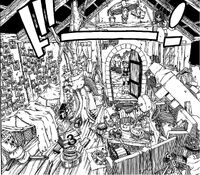 As Natsu and Happy finish a job, the two decide to find something to eat. Meanwhile, Lucy finally finds the location of Natsu and Happy's house. Lucy decides that it is time to pay back Natsu and Happy for embarrassing her every time the two visit her at her house. She finds that the door is unlocked and enters, only to see a house with overturned furniture, unwashed dishes, and most of the floor cluttered with junk.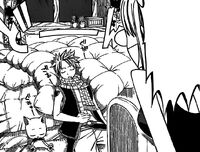 As Lucy examines the house, she sees the request poster of Kaby Melon with a note pinned saying "The quest I performed with Lucy for the first time". Lucy also sees the signature of the fake Salamander that tried to kidnap Lucy and other girls to be slaves, rubble from the meeting place of the guild masters at Clover Town that Team Natsu accidentally destroyed when they were fighting Lullaby, a souvenir from Galuna Island where they took an unauthorized S-Class request, and Lucy's maid costume. Lucy is touched by Natsu's actions and decides to clean up while waiting for them.
However, after a long time, Lucy gets bored with waiting for Natsu and Happy and decides to go home, only to find them in her house, asleep near her bed.

Characters in Order of Appearance
Battles & Events
Magic, Spells, and Abilities used
Magic used
Spells used
Abilities used
Community content is available under
CC-BY-SA
unless otherwise noted.