Welcome to Fairy Fountain is an omake of Fairy Tail by Hiro Mashima.
The master wants to open the guild's pool to the public to make some cash and he asks Lucy to test out the attractions that the guild members prepared.
Summary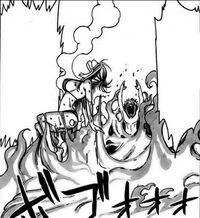 Makarov decides to open the indoor swimming pool of the guild to the public and states that he's going to get everyone to prepare for attractions so that the customers may have a good time. Makarov then tells Lucy to test the attractions since, to him, she is a normal person. Makarov shows Lucy Natsu's attraction, Salamander's Fountain. Lucy does not want to try it but Makarov pushed her into the boiling hot water. Makarov next shows to Lucy Gray's attraction, Ice Fountain, where Lucy was frozen. Lucy thinks that Makarov is trying to kill her, but Makarov insists that everyone is having fun and decides to show her Juvia's attraction, Juvia Slider. Makarov explains that with the help of Juvia's Magic, the water courses are limitless. At first, Lucy was enjoying the ride but Juvia got distracted by Gray's body causing Lucy to fall to the pool. Lucy then suggests to Makarov to put Juvia's attraction somewhere far from Gray.
| | |
| --- | --- |
| | |
Next up is Happy's attraction, Happy's Super-Special Diving Board, where Happy grabs hold of Lucy and flies her to a high altitude, then lets go of her above the pool. Next is Gajeel's Scrap-Metal Hell, where Gajeel holds Lucy and releases her above the pool where lots of sharp metals are in. Next is Erza's Combat Challenge where Erza and Lucy will battle above a rolling platform and the loser will fall into the floor filled with sharp and pointy metals. Last but not the least, Makarov's Upon the Giant's Palm. Everyone seems to be enjoying except Lucy who tells Makarov that if they open the pool to the public, fatalities will surely occur. Max then shows Makarov his idea of how to make cash and shows them a picture of Lucy in her bikini and the two starts selling them for 500
a piece.

Characters in Order of Appearance
Battles & Events
Magic, Spells, and Abilities used
Magic used
Spells used
Abilities used
Community content is available under
CC-BY-SA
unless otherwise noted.