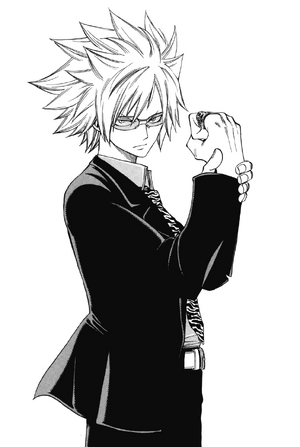 About me
I should probably put something here…
Well, I'm male, and I do lots of wiki editing, I'm an admin (sysop) on a few also.
My favorite manga/anime genre is a mix of shonen, comedy and supernatural (hence, why I read this manga/watch this anime).
And I also like single instrument adaptions of anime music.
My favorite pages
Favorite Quotes
Natsu
"So your gonna end this by dying huh? Stop running away!"
"I feel like I might've heard that name before. Can you remember for me?"
Lucy
"Someone who could shed tears for their friends... could never be rejected from Fairy Tail!"
"He only gave me a 1000 jewel discount. Is my sex appeal only worth 1000 jewels!!"
Gray
"I'll do what I want till the end. Cut me down if you want."
"Lady if you don't mind please lend me your underwea..."
Erza
"My nakama make my heart strong, If I'm fighting for those I love, I care not what happens to this body."
"That's right I don't have to die for my nakama sake, I have to live for their sake. Because thats the only way to bring about a happy future."
---
Pages I created
Community content is available under
CC-BY-SA
unless otherwise noted.