Osuras
Kanji

オスラス

Rōmaji

Ōsūrāsu

Alias

Oz
Ozymandias


Characteristics

Race

Human

Gender

Male

Age

20

Height

180cm (5'11")

Weight

89kg (197 lbs)

Birthday

25 January, 1994

Hair Color

 Hazel 

Eye Color

 Hazel 

Professional Status

Affiliation

User Rights

Editor

Occupation

Nursing Student

Previous Occupation

Student

Base of Operations

Fairy Tail Wiki

Other Wikis

Personal Information

Status

 Active 

Favorite Characters
Favorite Magic
Languages

English
Chinese (Poorly)

Misc.

Signature

Oz †
Some Info. About Myself
What's up. I'm Osuras, I've been apart of this wiki for a little over two years now (only being active for about 1/4th that time). I'm a laid back guy who's easy to approach if you *That's right, I'm looking at you, viewer!* have questions about anything.
Top 3 Favorite Characters (In Order)
Gildarts Clive

Gildarts is the only guy I know that can pull off a troll face on
Laxus Dreyar
and get away with it. He is perhaps the most powerful mage in Fairy Tail and, is therefore, quite a force to be reckoned with. But what I like most about the guy is that he's one of the most
down to earth
people in the guild. He's pretty much screwed up his personal life, he's a womanizer, and had no idea that he had a
daughter
living right under his nose for well over a decade. While he's an extremely powerful mage and greatly respected for it, he's somewhat of a loner, and is all to often away from the guild. I can sympathize with this guy.
Juvia Lockser
I really love the color blue (inutile), and I
LOVE
juiva's dynamic personality. At first, I had mixed feelings with her. Juvia's, at-first-glance, brooding personality was definitely a turn off. But after she meet
Gray Fullbuster
(turning her OCD for Gray), her attitude changed and her gloom disappeared, becoming a quirky Iceman-loving freak. I immediately fell in love with her, and her ridiculous fantasies.
Laxus Dreyar

Alright, it has to be said, I have a terrible weakness for badass bastards that wield lightning and look freakin' awesome in fur coats (I know, illogical right?). I'm always watching and waiting for what this guy will do next.
Favorite Magic
Disassembly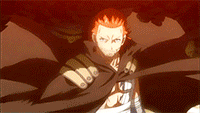 There's so many things you can do with this magic...the possibilities are endless.
Support Me! (I honestly don't know why the hell you would...)
Infoboxes
Community content is available under
CC-BY-SA
unless otherwise noted.