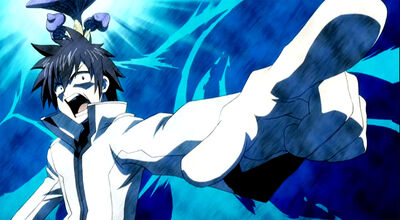 That's MY profile!
Thanks for visiting people! I finally thought it was time for me to update my profile... so, feel free to scroll down and read all the interesting and boring stuff I have to say :3
About me
I am just your ordinary 19 year old university student. I study to become a doctor, and this is pretty time consuming, but I still manage to enjoy every day spent there. In my free time, I practice martial arts, hang out with my friends, watch tv series/movies, write my own story and of course edit on this wiki!
On the wiki
Well... back then when I first joined and was a noob, I just fixed whatever I found and thought that looked wrong. Then I decided to join the ASG and the applications were closed but thankfully, I passed Carrot's test and joined as an exception, so I began working in the KotSS arc and any other stuff needed there. The GG and LUT followed, which are also great teams and I edit there frequently. Now I edit almost everything around the place, and I'm also a reviewer of every new Fairy Tail manga chapter that comes out :) STFU Rai! ಠ_ಠ Finally, I am one of this wiki's Minerva lovers, an elite and awesome team that supports and fanboys over Minerva Orland, ex-Sabertooth best Mage and current Dark Mage.
Why FairyRaven?
That's a pretty...interesting story actually. The one thing I've always sucked at is choosing a username. I created my account when the FT manga had just reached the Grand Magic Games arc, so I decided to combine the names of my favorite guild(Fairy Tail) and least Favorite (Raven Tail) which resulted in --> Fairy Raven. Although I have come up with tons of better usernames now, people know me as Raven, so I don't really wanna change it anymore XD
Why I joined this wiki
I was bored... xD not really. Simply because this wiki is the best there is. I've been a member of more than 5 wikis and an admin and bureaucrat on 3 of them, but I have never seen such a well organized, fun, lovable community, or a wiki that works so well, both community-wise and article-wise. I cannot begin to start explaining why I like this wiki so much, but it's one really worth the time spent editing here.