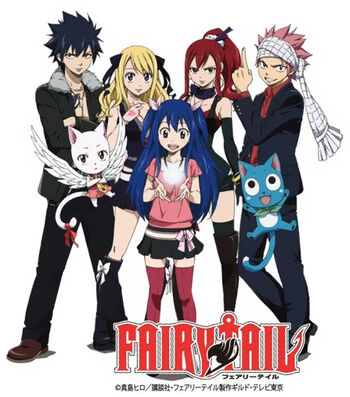 Manga Image Request
If anyone needs an image from the manga, rather than searching the web for the scanslated version, which is often lower quality, please request them from me.
Currently:
Tankōban Images: Chapter 001-222
Raw Images: Chapter 223-322 (Will take longer because it needs to be cleaned first).
About me
ADMINISTRATOR of Fairy Tail Wikia. Don't worry, I am still the same user you guys know, with a lot of information on Fairy Tail, both old and new, chapters from magazine and tankōbans, and some of the specials, only has a bit more button, that's all. If you guys need any help, please tell me and I'll do what I can.
Main Goals for the Site
Update each pages with new, unknown, and/or older information as accurate as possible.
Upload images at its best quality for the readers to enjoy it better.
Editing the overall site layout so that it's easier navigate/help...(?)
World Domination!
Have fun!
Current Project (as of 12/26/12)
Fairy Tail Translations (There will be a need to do a complete overhaul of the chapter spells... some are just plain wrong...)
Manga Images from Raw
Tracing back the dates of Fairy Tail released dates (This will be fun...)
Completed Projects
Project 掐浦忑 天普列特 Chapter Template. FTChapter.
Some Music
About the stream's image and translations
Most, if not all of you guys, will be tempted to use the stream's image. While it is much more convenient and faster, I don't think they are really happy about it... nor is it fair to just use their images when they clearly stated not to re-host the images anywhere else. If you are going to use the stream's images, I won't stop you. However, once the cleaned raw/Tankōbon/anime pictures is out, all images from the stream will be replaced with no exceptions.
Recently, due to the amount of incorrect translation from that stream site, I would advise that if you see the translator is naruhodo, DO NOT assume that it's translated correctly. He has made countless of atrocious translation that my eyes would bleed whenever I read then and compare them to the raws of Fairy Tail and other "Big Three" he's translating. Again, DO NOT ever assume that it's translated correctly!
Potential Image Restore Note
File:Natsu House draft.jpg
Chaos's Rumor
Note: Do not assume the following are definitely true. These are all rumors that I got from other sites (2ch, chinese sites, etc):
Title for 255: 妖精の球(フェアリースフィア Fearii Sufia Fairy Sphere) (Confirmed)
A movie for Fairy Tail is currently in production, set to release on August 18, 2012. (Confirmed)
Some good news for Fairy Tail fans from Mashima in the 50th issue of Shonen Magazine. (It's about the movie.)
The third OAD's title is Memory Days (メモリーデイズ Memorī Deizu). It will reveal Natsu's secrets. (Confirmed)
Mavis has blonde hair and green eyes. (The photo wasn't really clear on the eye-color.) (Confirmed)
Hades may not be dead. (Still Waiting)
Why Mavis looks young may be touched in a future. (Still Waiting)
Earth Land's Coco may appear in the Original Anime Story in April. (Confirmed)
Kinana may have affiliated with another guild in X791, perhaps even a guild that has appeared already, Anime Only. (False?)
Something big is going to happen after GMG.(Obviously)

It will have unprecedented plot. (Double Obviously)

Wendy will participate in the GMG. (True)
Why Sky Dragon Slayer's magic is mainly healing and support spells will be revealed in due time in the story. (Still Waiting)
Mashima revealed that the idea of Edolas was influenced by Rie Kugimiya. (Still Waiting)
Secrets of Re-equip may be revealed in the Movie.
VA of Sabertooth as of now:

Sting: Takahiro Sakurai
Rogue: Kenichi Suzumura
Lector: Akiko Yajima
Frosch: Satomi Kōrogi
Yukino: Maaya Uchida (False, sadly)

October Episodes:

151 Sabertooth 10/6/12
152 And We Aim For The Top 10/13/12
153 Song of the Stars 10/20/12
154 Only Enough Time to Pass By One Another 10/27/12
155 The Blooming Capital - Crocus 11/3/12

The Event "Hidden" is inspired by Assassin Creed. (Mashima Twitter, 11/18/12, 18:53 JST)
Dobengal's VA: Yoshihisa Kawahara
Episode 165-168:

165: Malice is Concealed by the Veil of Darkness 1/19/13
166: Pandemonium 1/26/13
167: 100 vs. 1 2/2/13
168: Laxus vs. Alexei 2/9/13
Episode 165-168:

169: Wendy vs. Chelia 2/16/13
170: Small/Tiny Fist 2/23/13
171: Naval Battle 3/2/13
172: The Perfume Dedicated to You 3/9/13
Fairy Tail Drama CD Volume 1: Detective Lucy ~The Continuous Disappearance of Fairies at Mirror Mansion Case~ (名探偵ルーシィ~鏡屋敷の連続妖精失踪事件~). To be released on April 17th.
OVA #5 will be focusing on Chapter 298. (Mashima Twitter)
Community content is available under
CC-BY-SA
unless otherwise noted.