Third Origin Release is an unnamed Arc of Time Spell.
Description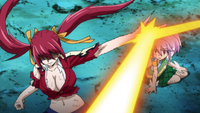 This spell grants the user the Magic Power that, in the future, they have the potential to obtain,[1][2] however, the casting process by which the recipient can gain this power takes some time to cast. The immediate side-effect of this spell being cast is that the recipient physically ages some years; for instance, they appear as an adult should they have been a child at the time of the casting.[3]
A Third Origin release can only be received once, as once the effect wears off, the user loses the ability to use Magic forever,[4] something which occurs due to the permanent disappearance of Ethernano from the recipient's body.[2]
References
Community content is available under
CC-BY-SA
unless otherwise noted.