Featured Voting
Featured Article (Closed)


Featured Picture (Closed)


Featured Quote (Closed)
Featured Picture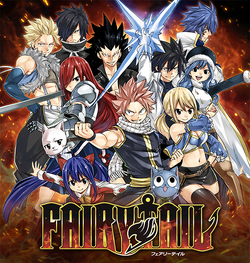 Available July 30th for PS4, Nintendo Switch, and PC!
Featured Quote
"
Upon this land in which the white angel reigned supreme, a Black Dragon now descends… It's as if the malice of the black angel has been made manifest. But the one who will be laughing when all is said and done is I… The Scarlet Angel.
"
Featured Media
Did You Know?
...that Gray was originally planned to be the Ice Dragon Slayer, but that this idea was discarded and Mashima eventually settled with Ice Devil Slayer?
...that Minerva was returned to her human form by Porlyusica?
...that Gajeel has his own spin-off manga that is being published in the Fairy Tail Magazine Pocket app?
Poll
So a new year has begun and it's March already?...huh. Time sure flies by. Anyway, busyness is a common thing these days, but that doesn't mean we don't have free time to do some activities sometimes, right? So to get to know our community and fans a bit more, we ask you...
Which of the following is your favorite Fairy Tail arc?
Poll Results
So it looks like most of you would like manga copies and anime DVDs for your Christmas presents. Hehe, can't say we blame you. Lots of other interesting choices as well. Anyway, here are the full results:
| Position | Option | Votes | Percent |
| --- | --- | --- | --- |
| 1 | Copies of the manga - I want to own them aaaaall! | 1007 | 42.56% |
| 2 | Blu-Ray/DVDs of the anime - *grabby hands* | 330 | 13.95% |
| 3 | Get me a flight to Japan so I can meet Mashima himself - Look, I know it's like impossible, but just do it! | 234 | 9.89% |
| 4 | An official art book by Hiro Mashima - His art is the best~ | 159 | 6.72% |
| 5 | Figurines of the characters - So I can ogle them every day~ | 156 | 6.59% |
| 6 | Fairy Tail cosplay - What? I like to dress up *shrugs* | 140 | 5.92% |
| 7 | Fairy Tail key chains or stationary - Accessorize me! | 138 | 5.83% |
| 8 | Anime OST CDs - So I can blast pure awesomeness into my ears. | 115 | 4.86% |
| 9 | Other | 87 | 3.68% |