Skip to Table of Contents

This is the talk page for the article "Solid Script".

This space is for discussing changes to the article. General discussion about the subject belongs in forums, and direct all questions to our Chat or Blogs.
Put new text under old text. Click here to start a new topic.
Please remember to stay civil and sign all of your comments with four tildes (~~~~).
ICE CLOUD BOOST?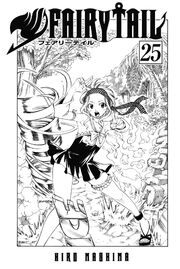 On the cover of Volume 25, Levy is shown to use multiple spells including ones already present in the wikia, Fire, Stone etc. Therefore, should pages for Cloud and Boost be added, albeit neither of them are clearly visible but the case with Cloud is quite obvious and her skirt covering one of the more important letters of Boost. Or it could just have an honourable mention as Flower, Snow, Bridge etc. have had. However, since it is a cover page, shouldn't this make Ice 100% canon rather than game-only. Thoughts?
--しんちゃん
12:50,9/26/2015 12:50, September 26, 2015 (UTC)
I personally think it shouldn't be added simply because we don't know what it does other than it shows the word. Boost... that could mean a lot of things boost power? speed? resistance? who knows. As for cloud... probably something non-combative would be redundant to add.
..::ShinShinTo::. 13:48, September 26, 2015 (UTC)
Spell Kanji
We don't really add the Ice-Make part to Ice-Make Spells or Doll Attack part to Doll Attack Spells. Wouldn't it be better to treat Solid Script the same way? --Sane Lunatic (talk) 08:59, October 17, 2015 (UTC)
Air Magic
Like Magic Card, there seems to be a problem with listing Solid Script spells as their respective elemental spells. In Episode 255 Gajeel tells Levy to make air from magic to which she realises that, from the beginning she should have used 空気の魔法 (literally what she said in the anime, same magic as Ren) I'm also pretty sure she said this in the manga though I cannot find raw source. --しんちゃん
09:46,10/17/2015 09:46, October 17, 2015 (UTC)
It's just a general statement about the creation of Air using Magic. Yes, I realize that she uses the same name that we use for Ren's Magic, but the context is also important. --Sane Lunatic (talk) 10:05, October 17, 2015 (UTC)
Community content is available under
CC-BY-SA
unless otherwise noted.