m

Line 8:
Line 8:
 

|user=[[Guttman Kubrick]]

 

|user=[[Guttman Kubrick]]

 

}}

 

}}

−

'''Rupture Magic''' is an anime-only [[Caster Magic]] centered around pressurizing [[Magic|Magic Power]].

+

'''Rupture Magic''' is an anime-only [[Caster Magic]] centered around [[Magic|Magic Power]].

 
 
 

==Description==

 

==Description==

 

[[Image:Rapture Magic.gif|left|thumb|200x200px|Guttman using his Rupture Magic]]

 

[[Image:Rapture Magic.gif|left|thumb|200x200px|Guttman using his Rupture Magic]]

−

A Magic that allows the user to pressurize the Magic Power within a person until it, quite literally, explodes. The more Magic Power a person has, the more powerful Rupture Magic's effects are.<ref>Fairy Tail Anime: Episode 142</ref>

+

A Magic that allows the user to pressurize the Magic Power within a person until it, quite literally, explodes. The more Magic Power a person has, the more powerful Magic's .<ref>Fairy Tail Anime: Episode 142</ref>

 

{{-}}

 

{{-}}

 
+
 
+

==Variations==

 
+

<gallery widths="170" bordersize="large" bordercolor="gold" hideaddbutton="true" captionalign="center">

 
+

Metsu.jpg|link=Metsu|[[Metsu]]

 
+

</gallery>

 
 
 

==References==

 

==References==
---
Revision as of 04:54, 25 January 2019
Rupture Magic is an anime-only Caster Magic centered around the pressurization of Magic Power.
Description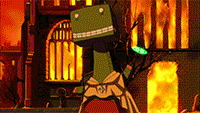 A Magic that allows the user to pressurize the Magic Power within a person until it, quite literally, explodes. The more Magic Power a person has, the more powerful the effects are; when this Magic is used, it will also empty out the target's Magic reserves with each blow.[1]
Variations
References
↑ Fairy Tail Anime: Episode 142
Community content is available under
CC-BY-SA
unless otherwise noted.