Rainbow Sakura is an omake of Fairy Tail by Hiro Mashima.
It's time for the annual Hanami festival but Lucy is unable to attend due to her cold. Natsu and Happy, feeling sorry for her, dig up a Rainbow Sakura tree and make it float in front of her house for her to see.
Summary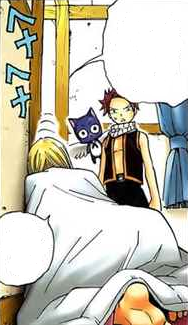 Everyone in the guild is participating in the Hanami festival. Lucy, however, is not among them because she caught a cold. As Natsu and Happy leave her to rest, they remember the day before. Lucy was very excited after hearing of the festival and frets about clothes and the beauty of the Rainbow Sakuras. Remembering this, the two feel sorry for Lucy.
Later, Lucy is resting on her bed, thinking about the guild and the festival until she falls asleep. She later wakes up because of the noise outside and decides to investigate. She then sees a Rainbow Sakura on a boat floating on the river and admires the beauty of the tree.
The next day, Lucy is feeling a lot better. Makarov then asks his guild members who uprooted the Sakura tree, saying that the mayor is extremely angry. Lucy notices Natsu and Happy's reactions being the guilty ones and she thanks them, although the two pretend that they do not know what she is talking about.

Characters in Order of Appearance
Battles & Events
Magic, Spells, and Abilities used
Magic used
Spells used
Abilities used