Mimi (ミミ Mimi) is a member of the Moonlight Divinities, a group of underlings that follow Selene.[1]
Appearance
Mimi has a massive, muscular frame with a ripped sleeved karategi outfit. Her light-colored hair is shaved on the sides, completing it by wearing getas with socks.[1]
Personality
Mimi is loyal, overly respectful warrior-like person, who pays dues to all those regardless if they are an ally or enemy.[1]
History
At some point in time, Mimi was recruited by Selene to be her bodyguard, becoming a Moonlight Divinity.[1]
Synopsis
100 Years Quest arc
Spirit Arts and Abilities
Immovable (不動 Fudō): Mimi is able to use this Spirit Art that uses Spiria in combat by incorporating it with her body to enhance her physical attributes, and create various effects such as attacking with an invisible force,[2] releasing a beam from her palms,[3] defend and attack her targets through spinning[4] and releasing a barrage of strikes.[5]
Immovable Blade (不動剣 Fudōken): Mimi creates an invisible force that can slice through objects in a wide radius.[2]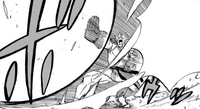 Flight: After incorporating the full power of her Spiritual Art throughout her entire body, Mimi is able to levitate and fly through the air.[12]
Expert Hand-to-Hand Combatant: Mimi has demonstrated great physical prowess, as she is both exceptionally fast and strong when it comes to close-range confrontations. She was also able to overwhelm Capricorn with relative ease.[5]
Immense Strength: Mimi possesses a huge amount of physical strength as she is able to overpower and push back the combined strength of both Taurus and Lucy while in her Star Dress: Taurus Form, which led for her to easily defeat Taurus and forces him to return back to the Celestial Spirit World.[13]
Enhanced Smell: Mimi has a very keen sense of smell. Her nose is capable of tracking her targets by their scent.[14]
Enhanced Speed: Mimi has shown she can run at a very fast speed. Her speed allows her to destroy any of her surroundings she runs into,[15] and to reach her destination at a very fast timing.[16]
Battles & Events
Lucy Heartfilia vs. Mimi

Lucy Heartfilia vs. Mimi: Rematch
References
↑

Fairy Tail: 100 Years Quest Manga: Chapter 82, Page 17

↑

Fairy Tail: 100 Years Quest Manga: Chapter 82, Pages 17-19

↑

Fairy Tail: 100 Years Quest Manga: Chapter 83, Page 4

↑

Fairy Tail: 100 Years Quest Manga: Chapter 72, Page 6

↑

Fairy Tail: 100 Years Quest Manga: Chapter 83, Page 12

↑

Fairy Tail: 100 Years Quest Manga: Chapter 83, Page 15

↑

Fairy Tail: 100 Years Quest Manga: Chapter 83, Pages 3-4

↑

Fairy Tail: 100 Years Quest Manga: Chapter 71, Pages 2-5

↑

Fairy Tail: 100 Years Quest Manga: Chapter 81, Pages 14-18

↑

Fairy Tail: 100 Years Quest Manga: Chapter 81, Pages 15-16

↑

Fairy Tail: 100 Years Quest Manga: Chapter 81, Page 18