| | | |
| --- | --- | --- |
| | A wiki dedicated to everything about the Manga and Anime Fairy Tail created by Hiro Mashima. This wiki aims to archive Fairy Tail and all related material. Please help us by creating or editing any of our articles! We are currently editing over 4,006 Articles on this wiki. | |
Featured Article
Spriggan 12

---

The Spriggan 12 (スプリガン12 Supurigan Tuerubu) is an elite unit serving as Zeref Dragneel's (the emperor of the Alvarez Empire, under the alias Emperor Spriggan) personal guard. According to Hyberion, the members of the Spriggan 12 (dubbed "Shields") are extremely skilled and powerful Mages, all around the same level of power as God Serena: the strongest Mage from Ishgar. The Shields also appear to do whatever it is they please and roam about, being that it is extremely rare all twelve are in the same location.
Recent Manga Chapter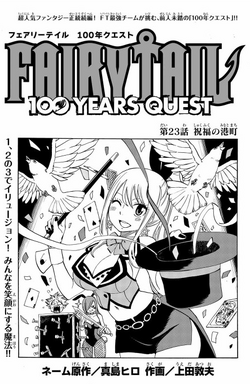 FT100YQ Chapter 23: Blessed Port Town
---
Spoiler Alert! Read at your own risk!

---
With the first God Dragon sealed, and while the dragon eaters convene at their Guild, Tōka sets out in search for Team Natsu to conduct her mission.
Read the full summary here.


Recent Anime Episode
Episode 305: White Dragneel

---

Mirajane defeats her two powerful adversaries, but is caught by Irene before there's time to celebrate. Elsewhere, the various Fairy Tail teams follow their own paths in order to save Mavis. But the enemy is fully prepared and waiting to stop them.

The 305th episode, White Dragneel, is up! Watch the story continue and discuss your thoughts here!
Related Sites
Official Sites
JpnKodansha Japan

---

Official Fairy Tail manga site with the latest volume updates.

JpnFairy Tail TV

---

Anime's official Fairy Tail site with the latest anime updates.

JpnTV Tokyo: Fairy Tail

---

TV Tokyo's official website for the Fairy Tail Anime.

Kodansha Comic

---

Official English News site for the English release of Fairy Tail.
Affiliated Sites
If you would like to become an affiliate of the Fairy Tail Wiki contact us.
Recent Blogs
Featured Picture
"The sisters meet again"
Featured Quote
Featured Media
Featured Video
Did You Know...
...that Laxus was completely aware that Mystogan was the Jellal from Edolas?
...that Invel's name is actually recycled from the list of possible names for Zeref from the Tenrou Island arc?
...that Natsu's clothes are special-made by a tailor in Magnolia to be fire-proof?
...that Jacob Lessio was inspired by English actor Jason Statham?
...that after Erza's introduction everything about her was made along with the flow of the story?
Poll
The Fairy Tail manga has ended and, of course, the last Fairy Tail anime series will be covering the remaining episodes until the end. Our poll this time asks you the following: which is your favourite Story Arc throughout the series so far??
Which of the following is your favorite Fairy Tail arc?
Poll Results
We asked you which member of the Spriggan 12 was your favourite, and here're the answers you gave:
| Position | Option | Votes | Percent |
| --- | --- | --- | --- |
| 1 | Irene Belserion | 1809 | 31.07% |
| 2 | Brandish μ | 930 | 15.97% |
| 3 | Larcade Dragneel | 683 | 11.73% |
| 4 | I don't like any of them to be honest... | 527 | 9.05% |
| 5 | August | 422 | 7.25% |
| 6 | I can't pick just one! DX | 372 | 6.39% |
| 7 | God Serena | 266 | 4.57% |
| 8 | Dimaria Yesta | 185 | 3.18% |
| 9 | Invel | 116 | 1.99% |
| 10 | Wahl Icht | 106 | 1.82% |
| 11 | Bradman | 102 | 1.75% |
| 12 | Jacob Lessio | 102 | 1.75% |
| 13 | Ajeel Ramal | 101 | 1.73% |
| 14 | Neinhart | 101 | 1.73% |