| | | |
| --- | --- | --- |
| | A wiki dedicated to everything about the Manga and Anime Fairy Tail created by Hiro Mashima. This wiki aims to archive Fairy Tail and all related material. Please help us by creating or editing any of our articles! We are currently editing over 4,040 Articles on this wiki. | |
Featured Article
Water

---

Water (水流 Wōtā) is a Caster Magic which utilizes the element of water. As a variation of Water Magic, its main purpose is to control the liquid, taking advantage of the element for various effects, from high-pressured water attacks to cut through even steal, to streams of boiling water to burn the enemy. The strongest point of this ability, however, is to turn one's body into that of water, allowing any physical attacks to pass through the user without any harm caused.
Recent Manga Chapter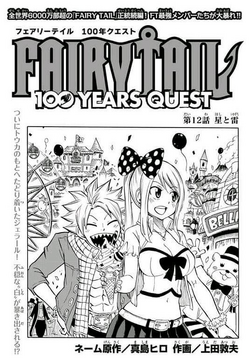 FT100YQ Chapter 12: Stars and Lightning
---
Spoiler Alert! Read at your own risk!

---
Read the full summary here.


Recent Anime Episode
Episode 284: Memoirs

---

Zeref shares the story of his childhood and how he came to be afflicted with his deadly Curse of Contradiction. Meanwhile, Lucy worries that the old Fairy Tail members have moved on and won't want to help restart the Fairy Tail guild, only to receive the exact opposite response from her comrades.

The 284th episode, Memoirs, is up! Watch the story continue and discuss your thoughts here!
Related Sites
Official Sites
JpnKodansha Japan

---

Official Fairy Tail manga site with the latest volume updates.

JpnFairy Tail TV

---

Anime's official Fairy Tail site with the latest anime updates.

JpnTV Tokyo: Fairy Tail

---

TV Tokyo's official website for the Fairy Tail Anime.

Kodansha Comic

---

Official English News site for the English release of Fairy Tail.
Affiliated Sites
If you would like to become an affiliate of the Fairy Tail Wiki contact us.
Recent Blogs
Featured Picture
"The cry of revival"
Featured Quote
Featured Media
Featured Video
Did You Know...
...that Laxus was completely aware that Mystogan was the Jellal from Edolas?
...that Invel's name is actually recycled from the list of possible names for Zeref from the Tenrou Island arc?
...that Natsu's clothes are special-made by a tailor in Magnolia to be fire-proof?
...that Jacob Lessio was inspired by English actor Jason Statham?
...that after Erza's introduction everything about her was made along with the flow of the story?
Poll
The Fairy Tail manga has ended and, of course, the last Fairy Tail anime series will be covering the remaining episodes until the end. Our poll this time asks you the following: which is your favourite Story Arc throughout the series so far??
Which of the following is your favorite Fairy Tail arc?
Poll Results
We asked you which member of the Spriggan 12 was your favourite, and here're the answers you gave:
| Position | Option | Votes | Percent |
| --- | --- | --- | --- |
| 1 | Irene Belserion | 1809 | 31.07% |
| 2 | Brandish μ | 930 | 15.97% |
| 3 | Larcade Dragneel | 683 | 11.73% |
| 4 | I don't like any of them to be honest... | 527 | 9.05% |
| 5 | August | 422 | 7.25% |
| 6 | I can't pick just one! DX | 372 | 6.39% |
| 7 | God Serena | 266 | 4.57% |
| 8 | Dimaria Yesta | 185 | 3.18% |
| 9 | Invel | 116 | 1.99% |
| 10 | Wahl Icht | 106 | 1.82% |
| 11 | Bradman | 102 | 1.75% |
| 12 | Jacob Lessio | 102 | 1.75% |
| 13 | Ajeel Ramal | 101 | 1.73% |
| 14 | Neinhart | 101 | 1.73% |