| | | |
| --- | --- | --- |
| | A wiki dedicated to everything about the Manga and Anime Fairy Tail created by Hiro Mashima. This wiki aims to archive Fairy Tail and all related material. Please help us by creating or editing any of our articles! We are currently editing over 4,581 Articles on this wiki. | |
Featured Article
Fairy Tail Goku • Mahō Ranbu

---

Fairy Tail Goku • Mahō Ranbu (FAIRY TAIL 極・魔法乱舞 Fearī Teiru Goku • Mahō Ranbu) is the official mobile RPG for the Fairy Tail anime released as an app for Android and iOS by COPRO. It includes character stories and events, never-before-seen spells for the cast, original characters and magics, as well as collaborations with other games and series alike. For English translation, follow @FTDanceofMagic on Twitter.
Recent Manga Chapter
FT100YQ Chapter 103: Memories of Friends
---
Spoiler Alert! Read at your own risk!

---
Despite that his strength was cut, Laxus protects Lucy from Kiria, getting wounded in the process. Remembering the bonds of her friends, Lucy uses a Star Dress Mix to defeat Kiria.
Recent Anime Episode
Related Sites
Official Sites
JpnKodansha Japan

---

Official Fairy Tail manga site with the latest volume updates.

JpnFairy Tail TV

---

Anime's official Fairy Tail site with the latest anime updates.

JpnTV Tokyo: Fairy Tail

---

TV Tokyo's official website for the Fairy Tail Anime.

Kodansha Comic

---

Official English News site for the English release of Fairy Tail.
Affiliated Sites
If you would like to become an affiliate of the Fairy Tail Wiki contact us.
Featured Picture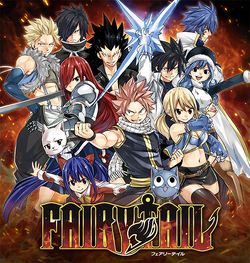 Out now for PS4, Nintendo Switch, and PC!
Featured Quote
Featured Video
Fairy Tail: 100 Years Quest will be animated! Stay tuned for more info!
Featured Media
Anime Twitter
Did You Know...
...that Laxus was completely aware that Mystogan was the Jellal from Edolas?
...that Invel's name is actually recycled from the list of possible names for Zeref from the Tenrou Island arc?
...that Natsu's clothes are special-made by a tailor in Magnolia to be fire-proof?
...that Jacob Lessio was inspired by English actor Jason Statham?
...that after Erza's introduction everything about her was made along with the flow of the story?
Recent Blogs

CNBA3
•
I am making this because I can't seem to find where the information was where there were some anime exclusive content from the Tartaros Arc that Hiro wanted to add to the manga but was cut including the Laxus Dreyar vs. Tempester fight and a few other things, can someone please provide a link as to where this information can be found?
Thank you.