Hakune (ハクネ Hakune) is a member of the Moonlight Divinities, a group of underlings that follow Selene.[1]
Appearance
Hakune wear an old Japanese western yukata, with incrinate designs to go with her long, light-colored hair.[1]
Personality
Hakune carries a calm and serene persona, but becomes deadly once provoked, especially towards men.[1]
History
At some point in time, Selene recruited her to be her bodyguard, becoming a Moonlight Divinity.[1]
Synopsis
100 Years Quest arc
Spirit Arts and Abilities
Freezing (凍 Tō): Hakune is able to use this Spirit Art that gives her the ability to manipulate the concept of freezing. Hakune creates a vast amount of floating ice shards and snowflakes around them that not only freeze her targets into solid ice but also their Magic Power, Curse Power, and Spirit Arts, preventing those being frozen from harnessing any of their abilities which include resistances and attributes.[2][3]
Snow-Woman (雪女 Yuki-Onna): Hakune is able to summon Yokais that creates dolls made of snow and takes the forms of women making them irresistible to men.[4]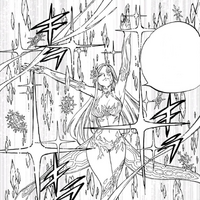 Battle Form: Hakune can assume a battle form. Her clothing disappears, and some parts of her body are covered in ice while the rest remained exposed. In this form, she is able to release an intimidating feeling onto her target.[10]
Battles & Events
Natsu Dragneel & Gray Fullbuster vs. Hakune

Gray Fullbuster vs. Hakune
References
↑

Fairy Tail: 100 Years Quest Manga: Chapter 72, Pages 16-19

↑

Fairy Tail: 100 Years Quest Manga: Chapter 84, Pages 4-12

↑

Fairy Tail: 100 Years Quest Manga: Chapter 71, Pages 8-12

↑

Fairy Tail: 100 Years Quest Manga: Chapter 72, Pages 17-19

↑

Fairy Tail: 100 Years Quest Manga: Chapter 84, Pages 6-7

↑

Fairy Tail: 100 Years Quest Manga: Chapter 72, Pages 6-7

↑

Fairy Tail: 100 Years Quest Manga: Chapter 85, Pages 2-3

↑

Fairy Tail: 100 Years Quest Manga: Chapter 85, Pages 6-8

↑

Fairy Tail: 100 Years Quest Manga: Chapter 71, Pages 13-14