Fire God Slayer Magic (炎の滅神魔法 En no Metsujin Mahō) is a Caster Magic, Ancient Spell, Lost Magic and a type of God Slayer Magic that utilizes fire.
Description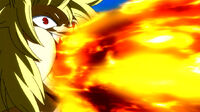 Fire God Slayer Magic incorporates the element of fire into the user's body, allowing them to produce black flames from any part of their body,[1][2] which are mostly used as a means for offense.[3][4] The user is also able to consume external sources of fire in order to replenish their strength and rid themselves of fatigue,[5] thereby making them immune to fire-based attacks, much like a Fire Dragon Slayer.[6] However, a Fire God Slayer is able to eat the flames produced by a Fire Dragon Slayer,[5] with the reverse being normally impossible for said Dragon Slayer,[7] except under special circumstances.[8] In addition, God Flames do not burn. Rather, they have been described to be more like halberds that destroy everything in their path.[9]
Spells
Zancrow's Spells
Basic Spells
References
Community content is available under
CC-BY-SA
unless otherwise noted.