Blue Skull is the 6th chapter of Fairy Tail Zerø, a prequel to Hiro Mashima's Fairy Tail.
Shocked at seeing the desolation of Magnolia and the imposing Blue Skull Dragon Skeleton, Precht's group are greeted by an old man who tells them the city's situation. Suddenly, he is brutally murdered by some Blue Skull grunts who try to attack the group, but are effortlessly defeated, only for reinforcements to arrive. Mavis tries to intimidate them using illusions, but these are easily dispelled by the opponents' Guild Master and the Blue Skull members begin to overpower the group with their Magic and sheer numbers. Routed, the Treasure Hunters, Mavis and Zera are forced to flee into the forest with severe injuries.
Summary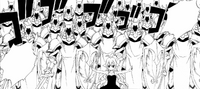 After arriving in Magnolia, the group marvels at the destruction and the blue Dragon skeleton, however before long they are approached by an old person, who tells them to leave the disparaged town; Yuri tells the old one that there destination is the town, whereas Precht asks what happened, but before they can answer, the old person is shot down and killed by members of Blue Skull. The members attack the group, but Yuri, Precht and Warrod deal with them rather quickly while Zera experiences anger at seeing the ones who destroyed Tenrou Island and Red Lizard. As soon as they are defeated, Yuri insults them, only for massive amounts of reinforcements to arrive a moment later. Mavis, in response to their arrival, creates an illusion army, which stops them in their tracks.
Utilizing their fear to her advantage, Mavis demands to see their Master, and amidst the confusion of the grunt Mages, their Master, Geoffrey appears and demands to know what the situation is; Mavis demands that he return the Tenrou Jade from Tenrou Island and begins to threaten Geoffrey, but Geoffrey sees through her facade and dispels her illusions, allowing his Mages to attack. The group attempts to break their lines, but after an intense struggle, Yuri is greatly wounded by Geoffrey and Precht loses an eye, which prompts Warrod to grab his two comrades and run. Warrod manages to break through their lines and calls for Mavis to follow them, which she does. As they run, Geoffrey stops his men from chasing them as he believes that they will go nowhere near Magnolia again. In an effort to hide from Blue Skull, they enter the nearby forest, which Mavis recollects was where they met a certain someone that changed everything.
Characters in Order of Appearance
Battles & Events
Magic, Spells and Abilities used
Magic used
Spells used
Abilities used
Weapons used
Community content is available under
CC-BY-SA
unless otherwise noted.