Black or White? is the 9th chapter of Fairy Tail: 100 Years Quest by Atsuo Ueda, a sequel to Hiro Mashima's Fairy Tail.
While Gajeel and Juvia continue their investigation on Touka, Mercphobia explains to Team Natsu that his powers as a Dragon have been stolen from him by a Mage reputed as the "White Wizard", preventing him from keeping peace in his troubled city. The members of Diabolos overhear the Water Dragon God and decide to target the perpetrator, who is identified by Jellal as none other than Touka.
Summary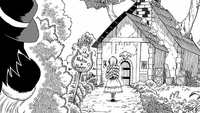 At the Blue Pegasus guild, Ichiya and The Trimens welcome a visiting Jellal. However, Jellal hastily inquires of Touka's whereabouts, leaving after they are unable to offer further information. While refusing to reveal his suspicions, Jellal warns the guild members to keep a distance from the woman in question. Meanwhile, Gajeel, Juvia, and Lily continue observing Touka, even resorting to stalking their new guildmate. Levy attempts to dissuade the trio, but stomps off in frustration after a disagreement with Gajeel. The group then follows Touka to Natsu and Happy's home, back to Magnolia, and lastly, to her house, discovering that she now resides next door to Lucy. Their investigation is cut short when Gajeel and Juvia fall off the two-story building, a scene witnessed by an irritated Levy.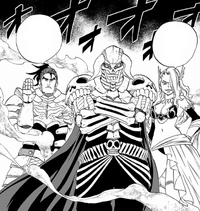 In Ermina, Team Natsu asks of Mercphobia's intentions, to which the Water Dragon responds that he must reclaim his powers, which have been stolen by a Mage called the "White Wizard". He then goes on to explain that he plans to use his magic to revert Ermina back to its original state, with Natsu agreeing to offer aid. However, they are interrupted by the arrival of Skullion, Kiria, and Madmole, who overhear the conversation and decide to track down the White Wizard in order to steal the Water Dragon's magic for themselves.
Still on the look for Touka, Jellal looks to Kagura for assistance. The Mermaid Heel Mage instantly recognizes Touka as Fairy Tail's newest recruit, and questions a shocked Jellal of her identity. He then admits that Touka herself is the renowned White Wizard, having been alive for more than a century and holding magic power rivaling that of Zeref.
Characters in Order of Appearance
Battles & Events
Magic, Spells and Abilities used
Magic used
Spells used
Abilities used
Community content is available under
CC-BY-SA
unless otherwise noted.