Amazing Ermina is the 4th chapter of Fairy Tail: 100 Years Quest by Hiro Mashima, illustrated by Atsuo Ueda, a sequel to Fairy Tail.
Team Natsu lodges at Ermina, which becomes totally submerged in the ocean at night. They are able to breathe and speak underwater thanks to a magic potion provided by the Fish inhabitants, but when they ask about the city's Water God, the Fish suddenly turn hostile towards the group. Meanwhile, Gajeel and Juvia begin their investigation on Touka and discover that she has a tail.
Summary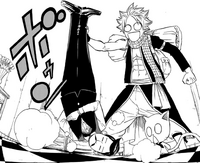 Having arrived at Ermina Town, Team Natsu finds themselves at Hotel Journey where they meet the manager and receptionist, Kashima. The latter is revealed to be an anthropomorphic fish and later assumes a human form, to the group's bewilderment and Happy's dismay. Before departing for a date, Kashima instructs the Fairy Tail mages to consume the beverages in their rooms, warning that they will not survive their stay should they fail to do so.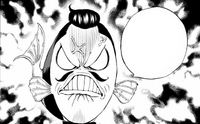 Gray later awakens in his room to find the entire hotel submerged in the ocean; however, he and his teammates are informed by Kashima that the town sinks on a daily basis at high tide, and the liquid they had consumed grants humans the ability to breathe underwater, as well as enhance their skills in swimming. Team Natsu indulge themselves in leisure, admiring the fish that had inhabited the area while Erza competes with a shark named Sharkina. However, their entertainment is cut short when Gray attempts to question Kashima on Mercphobia's whereabouts, at which point the fish become aggressive and proclaim their loyalty towards the Water Dragon. To avoid a confrontation, the group retreats as Mercphobia's followers give chase.
In Magnolia, Touka reveals herself to be a user of Water Magic, similarly to Juvia, a fact which disgusts the two. Meanwhile, Gajeel and Juvia continue their investigation of the newest Fairy Tail Mage, and in the process take notice of a striped tail under Touka's dress.
Characters in Order of Appearance
Battles & Events
Magic, Spells and Abilities used
Magic used
Spells used
Abilities used
Armors used
Items used