Burn it All is the 21st chapter of Fairy Tail: 100 Years Quest by Atsuo Ueda, a sequel to Hiro Mashima's Fairy Tail.
After initially disagreeing, Natsu eventually takes the temporary gift of Ignia's flames in order to put a stop to the rampaging Mercphobia.
Summary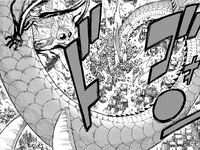 Amused by Natsu's vexed expression, Ignia reveals the circumstances behind his relation to Igneel, claiming that he did not know his father or even care for his demise. He further explains that he and several dragons had taken refuge from Acnologia nearly four centuries prior, with the Five Dragon Gods of Guiltina eventually growing to surpass the reputed King of the Dragons. Having been unable to test his strength on Acnologia, Ignia expresses frustration at Natsu's apparent weakness, and, hoping to motivate the dragon slayer into boosting his skills, threatens the lives of his comrades. He is subsequently attacked by an infuriated Natsu, although he is left unfazed and simply promises to confront him in the future. With that said, Ignia resumes his dragon form and departs from the harbor.
Meanwhile, the other Fairy Tail Mages approach a downcast Natsu, who stubbornly refuses to consume Ignia's flames. However, he eventually complies after being berated by his teammates, eliminating the fire from Ermina. Commenting on the sudden rush of power, Natsu leaps towards Mercphobia and effectively lands a hit on the Water Dragon God. He launches several consecutive attacks, even managing to throw Mercphobia by the tail as the rest of Team Natsu look on in ecstasy. Lucy, however, narrates her unease, even expressing fear at Natsu's flames.
Characters in Order of Appearance
Battles & Events
Magic, Spells and Abilities used
Magic used
Spells used
Abilities used
Armors used
Community content is available under
CC-BY-SA
unless otherwise noted.