From the Depths is the 19th chapter of Fairy Tail: 100 Years Quest by Hiro Mashima, illustrated by Atsuo Ueda, a sequel to Fairy Tail.
The battle against the raging Water Dragon God Mercphobia reaches a crisis point when Natsu is sucked into a vortex within the above-ground ocean, only to be saved by a dragon's hand.
Summary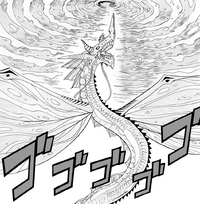 Mercphobia targets the harbor with a destructive water-based attack, to Fairy Tail Mages' dismay and Natsu's anger. Carried by Happy, the dragon slayer confronts the Water Dragon God with his dragon roar, but the attack is quickly extinguished by Mercphobia, and the two are caught in the latter's wave. The rest of Team Natsu make their own attempts to deal damage to the dragon, but to no avail. Natsu manages to jump onto Mercphobia, expressing reluctance at having to battle the Water Dragon God while also vowing to slay him. However, Mercphobia neutralizes his magic and creates a vortex, which then envelopes the dragon slayer as the other Mages look on in terror. At that moment, a dragon hand emerges from the vortex, enclosing Natsu, as a voice declares his refusal to hand the Fairy Tail Mage to Mercphobia.
Characters in Order of Appearance
Battles & Events
Team Natsu vs. Whiteout Mercphobia
Magic, Spells and Abilities used
Magic used
Spells used
Abilities used
Armors used
Weapons used