A Bitter Decision is the 18th chapter of Fairy Tail: 100 Years Quest by Atsuo Ueda, a sequel to Hiro Mashima's Fairy Tail.
Team Natsu engages the Water Dragon God after hearing Karameel's request, all the while the White Wizard gains the upper hand by wiping away the Magic of all the members at the guild.
Summary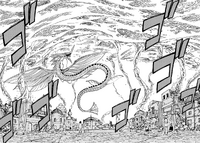 Faced with the decision of having to kill Mercphobia, Natsu berates Karameel for involving the White Wizard and refuses to slay the Water Dragon God; however, he is halted by Erza and Carla, with the latter reminding the Dragon Slayer of his pledge to protect their team. With Natsu's reluctant agreement, Wendy proceeds to enchant their team with Dragon Slayer Magic as they launch a barrage of attacks on Mercphobia. Despite this, the dragon emerges unscathed and raises the entire ocean above Ermina, leaving the spectators in awe at his power. Meanwhile, in Magnolia, the White Wizard sits at a table amidst the defeated Fairy Tail Mages and Jellal, declaring that she had just finished dyeing the guild white.
Characters in Order of Appearance
Battles & Events
Team Natsu vs. Whiteout Mercphobia

(started)
Magic, Spells and Abilities used
Magic used
Spells used
Abilities used
Armors used
Weapons used
Items used