Dyed White is the 15th chapter of Fairy Tail: 100 Years Quest by Hiro Mashima and Atsuo Ueda, a sequel to Fairy Tail.
The White Wizard begins to absorb Jellal's Magic, not before her true persona intervenes long enough for Gajeel to detain her. Meanwhile, Team Natsu gains the upper hand in their struggle against Diabolos.
Summary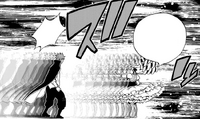 Unfazed, Jellal questions the White Wizard on her membership in Fairy Tail, to which she reveals her intentions to eliminate the guild due to their overwhelming magic power. Refusing to debate Jellal's argument, the White Wizard attempts to steal his magic, but suddenly collapses from visible struggle. Touka then begs Jellal to flee, and in the process allows the Crime Sorcière mage to witness her personality shifts between Touka and the White Wizard. At that moment, Gajeel knocks her unconscious from behind, with Lily, Juvia, and Levy in tow, the latter now acceptant of Gajeel's suspicions. As the scene unfolds, Jellal deduces that Touka and the White Wizard are two people residing in the same body, and wonders what to make of the situation.
On the Diabolos ship, Erza continues to battle Kiria, with the latter effectively breaking the swordswoman's blade. However, Erza explains that Wendy had previously enchanted dragon slayer magic into her katana, revealing a magical blade now replacing the shattered edge. Meanwhile, Natsu exchanges a blow with Madmole, overwhelming the dragon eater with his heat and successfully burning through his armor.
Characters in Order of Appearance
Battles & Events
Erza Scarlet vs. Kiria

Natsu Dragneel & Wendy Marvell vs. Skullion Raider & Madmole
Magic, Spells and Abilities used
Magic used
Spells used
Abilities used
Armors used
Weapons used