Rain and Shadow is the 14th chapter of Fairy Tail: 100 Years Quest by Hiro Mashima and Atsuo Ueda, a sequel to Fairy Tail.
As the Fairy Tail mages face against their opponents on the Diabolos ship, the White Wizard personally confronts Jellal, declaring him a hindrance to her plans.
Summary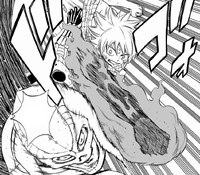 Erza approaches Kiria in her bedroom, explaining to the latter how she had broken free from her hypnotism and expressing a desire for retribution. Concurrently, her two companions face against Skullion, with Wendy effectively using her wind to blow away the dragon eater's ash, allowing Natsu to physically attack their opponent. Joined by Madmole, Skullion assures his ally that he will finish off the Fairy Tail mages.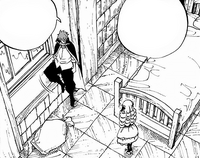 In Magnolia, back at the guild, Touka expresses gratitude towards Laxus, although Gajeel takes notice of her obscured malicious grin in the midst of conversation. Touka quickly changes the topic, blaming Juvia for the rainy weather, but is interrupted by Laxus, who explains that he will protect her only so long as she does not pose a threat to the guild. Upset by this declaration, Touka takes her leave.
On the Diabolos ship, Erza continues battling Kiria, deeming the latter's attempts at hypnotism ineffective. Meanwhile, Jellal is confronted by Touka in his hotel room, with the woman confirming his knowledge of her identity, as well as declaring him an obstacle in her path.
Characters in Order of Appearance
Battles & Events
Erza Scarlet vs. Kiria

(started)

Natsu Dragneel & Wendy Marvell vs. Skullion Raider & Madmole

(started)
Magic, Spells and Abilities used
Magic used
Spells used
Abilities used
Armors used
Weapons used