The Heart of Diabolos is the 10th chapter of Fairy Tail 100 Years Quest by Atsuo Ueda, a sequel to Hiro Mashima's Fairy Tail.
Over the struggle regarding the whereabouts of Touka and the stolen powers of the Water God Dragon, Mercuphobia, Team Natsu begins to engage Diabolos in battle.
Summary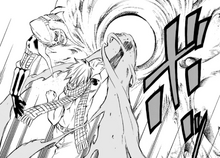 Demanding that the Diabolos mages leave his palace, Mercuphobia sends a water attack towards the trio, only for it to be disintegrated by Skullion. Skullion restrains the dragon with his magic, deeming him unworthy to eat, which in turns prompts the Fairy Tail mages' to retaliate. As Lucy and Wendy tend to Caramille and Mercuphobia, Gray and Erza face against Skullion and Kyria respectively while Natsu knocks Madmorl out of the ocean. However, the former's magic proves ineffective against the armor dragon slayer, who tosses Natsu onto the Diabolos ship, disabling him as a result of his motion sickness.
Meanwhile, Erza and Kyria exchange blows, with the dragon eater commending the swordswoman's skill. Expressing curiosity over the effects of a certain spell, Kyria sends a shockwave towards the Fairy Tail mage, who at first is seemingly unaffected. However, Erza suddenly expresses humiliation over her bikini attire and is quickly intimidated by Kyria's threatening expression. At the latter's command, Erza begs for her life to be spared, at which point Kyria reveals to a shocked Lucy and Wendy that she had "cut" away their comrade's strength.
Characters in Order of Appearance
Battles & Events
Magic, Spells and Abilities used
Magic used
Spells used
Abilities used
Weapons used
Community content is available under
CC-BY-SA
unless otherwise noted.