The First Guild and the Strongest Guild is the 1st chapter of Fairy Tail: 100 Years Quest by Atsuo Ueda, a sequel to Hiro Mashima's Fairy Tail.
Team Natsu embarks on a 100-year quest in the Northern Continent, only to unexpectedly encounter a Dragon, while a new member who is a fan of Natsu joins the ranks of the Fairy Tail Guild.
Summary
In the year X633, an old man stands amidst a wrecked village and its multilated residents, appearing to be the sole survivor. Hoping to unite wizards as a means of protection, the man formed the first wizard guild in history.
In the present day, Max introduces three new members to the Fairy Tail guild, although two are quickly frightened away by Laxus. The last recruit however, stays and introduces herself as Touka , revealing that she had joined the guild out of affection for Natsu, who had rescued her from bandits in the past. However, Makarov informs her that Natsu is not present, as he and his team had embarked on a hundred year quest, to Touka's surprise.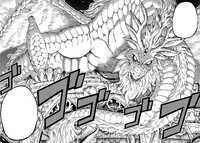 On the continent of Guiltina, Team Natsu approaches the ancient wizard guild, Magia Dragon, encountering snow-like ethernano in the process. Lucy recalls that Gildarts had failed in his attempt at this quest, although Natsu displays a more positive attitude with the company of his friends. As the group enters the guild, it appears to be deserted; however, they soon discover a dragon perched above them, to their immense shock. The dragon greets them as the "99th heroes", revealing himself as Elefseria, the Law Dragon, and the client of the hundred year quest.
Characters in Order of Appearance
Battles & Events
Magic, Spells and Abilities used
Magic used
Armors used
Abilities used
Weapons used
Community content is available under
CC-BY-SA
unless otherwise noted.