Erza Scarlet & Natsu Dragneel vs. Velveno is a fight fought between Fairy Tail S-Class Mage Erza Scarlet, Fairy Tail Mage Natsu Dragneel, and the escaped convict Velveno.
Prologue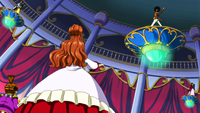 Team Natsu, Wendy, Carla, Elfman and Warren are hired by the Balsamico family to capture the escaped convict Velveno who had infiltrated the Magic Dance Ball with the use of his Transformation Magic. During the ball, Erza, Lucy, Natsu, Gray, Wendy and Elfman are on the lookout for Velveno while Warren, Happy and Carla watch from afar with surveillance Lacrima. However, the group fails to find Velveno and the clock quickly chimes midnight, prompting Balsamico to announce that whomever manages to get to the Balsamico ring first will earn the right to propose to his daughter, Aceto. The boy dancing with Wendy then reveals himself to be Velveno and uses the Sky Dragon's Roar he copied from her to take the ring.[1]
Battle
Seeing the escaped convict, Natsu charges at him and attacks with Fire Dragon's Iron Fist. Velveno attacks him with the same attack as well. Natsu then attacks with Fire Dragon's Roar and Velveno mimics his move once more, causing an explosion. Velveno then reveals that he had copied the Magic of every Fairy Tail Mage that attended the ball. Hearing this, Erza steps forward and tells Gray and Elfman to protect Aceto. She then requips into her Purgatory Armor and charges at Velveno. Velveno requips into the same armor as well and parries Erza's attack. Velveno then tells the group that he didn't come there to fight, but to propose to Aceto, putting an abrupt stop to the fight.[1]
Aftermath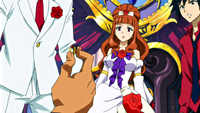 Velveno then tells the group his story, about how he was not allowed by the Count to visit his daughter because of the difference in the social standings and how he got involved in crime. He then kneels to Aceto and asks her to be his wife. Despite her father's objections, Aceto agrees with the condition that Velveno turns himself in for the crimes he committed. Velveno agrees and the two promise to wait for each other.[1]

References
Key of the Starry Sky arc Fights

Pre-Arc Fights

Gray Fullbuster vs. Unnamed Ice-Make Mage • Erza Scarlet & Natsu Dragneel vs. Velveno • Natsu Dragneel vs. Jiggle Butt Gang • Team Natsu vs. Bandits • Gray Fullbuster vs. Vanish Brothers

Encounter Against

Legion Fights

Fairy Tail vs. Sugarboy (Earth Land), Mary Hughes & Coco (Earth Land) • Natsu Dragneel & Gray Fullbuster vs. Sugarboy (Earth Land) & Byro Cracy • Gildarts Clive & Erza Scarlet vs. Byro Cracy • Lucy Heartfilia vs. Mary Hughes • Wendy Marvell & Panther Lily vs. Coco (Earth Land) • Lahar & the Custody Enforcement Unit vs. Jackpot • Team Natsu & Wendy Marvell vs. Dan Straight & Samuel

Clock Part

Retrieval Fights

Gray Fullbuster, Lyon Vastia & Juvia Lockser vs. Labyrinth Guardian • Gray Fullbuster, Juvia Lockser & Lyon Vastia vs. Sugarboy (Earth Land) • Natsu Dragneel, Lucy Heartfilia & Romeo Conbolt vs. Dan Straight & Coco (Earth Land) • Natsu Dragneel & Romeo Conbolt vs. Dan Straight • Erza Scarlet vs. Jiggle Butt Gang • Panther Lily vs. Samuel • Gajeel Redfox & Shadow Gear vs. Clock Part Guardian • Mirajane Strauss, Elfman Strauss & Lisanna Strauss vs. Mary Hughes • Erza Scarlet vs. Jiggle Jugs Gang • Natsu Dragneel, Lucy Heartfilia & Romeo Conbolt vs. Byro Cracy & Kanaloa • Fairy Tail & Lyon Vastia vs. Byro Cracy

Assault For The

Clock Fights

Fairy Tail, Lyon Vastia, Byro Cracy & Dan Straight vs. Reborn Oración Seis • Reborn Oración Seis vs. Kingdom of Fiore's Guards • Natsu Dragneel, Lucy Heartfilia, Elfman Strauss & Byro Cracy vs. Jackpot • Bickslow & Wendy Marvell vs. Erigor • Gajeel Redfox & Juvia Lockser vs. Guttman Kubrick • Gray Fullbuster, Freed Justine & Dan Straight vs. Angel • Erza Scarlet, Evergreen & Max Alors vs. Cobra • Doranbolt & Katja vs. Racer • Panther Lily vs. Samuel: Rematch • Alzack Connell & Bisca Connell vs. Midnight • Imitatia vs. Natsu Dragneel

The End At Its

Fullest Fights

Mirajane Strauss vs. Racer • Natsu Dragneel, Mary Hughes & Coco (Earth Land) vs. Guttman Kubrick • Gildarts Clive & Byro Cracy vs. Lapointe • Gildarts Clive vs. Byro Cracy • Gajeel Redfox vs. Midnight • Natsu Dragneel, Elfman Strauss, Coco (Earth Land) & Romeo Conbolt vs. Imitatia • Erza Scarlet vs. Cobra • Gray Fullbuster & Dan Straight vs. Angel • Natsu Dragneel vs. Midnight