Tenrou Tree is the 113th episode of the Fairy Tail anime. It first aired on January 14, 2012.
With the return of Gildarts Clive, Freed Justine, and Bickslow, Fairy Tail gains the upper hand in their battles. Meanwhile, Erza starts her battle with Azuma.
Synopsis
Gildarts orders Natsu, Lucy, Wendy, Cana, Happy and Carla to leave as he begins his battle against Bluenote. As their battle progresses, the terrain is destroyed because of their massive Magical Power. At camp, Rustyrose attacks Levy, Lisanna and Pantherlily when suddenly, Freed and Bickslow arrive to intercept his attack and take over the battle where they gain the upper hand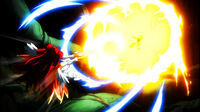 However, during Erza and Azuma's battle, Azuma forces the Tenrou Tree out of the land, causing it to crumble to the ground. This results in the Fairies all over the island, except Erza, losing their Magic as it is this tree that supplies Magic and provides protection to all those bearing the mark of Fairy Tail. This puts Gildarts, Freed and Bickslow at a huge disadvantage against their opponents.
With everyone at death's door, Azuma challenges Erza, the only left one with Magic, to defeat him in order to save everyone's lives.

Characters In Order of Appearance
Fights
Magic, Spells, and Abilities used
Magic used
Spells used
Abilities used
Armors used
Manga & Anime Differences
Before beginning their fight, Bluenote and Gildarts release huge amounts of Magical power.
A scene is added about the conversation between Natsu, Lucy, Cana, Wendy, Happy and Carla on their way back to camp.
Rustyrose attacking Pantherlily, Lisanna and Levy is added before his fight against Freed and Bickslow.
In the anime, Freed used Dark Écriture: Pain in the form of beams.
The anime adds the transformation effect of Dark Écriture: Absolute Shadow.
The beginning of Erza Scarlet vs. Azuma is shown in the anime.
In the manga, Rustyrose never mentions that he knows who Bickslow and Freed are.
When the Tenrou Tree was falling, Bluenote used Gravity Magic to attack Gildarts, but kicked him instead in the anime.