The One Thing I Couldn't Say is the 112th episode of the Fairy Tail anime.
Cana, after remembering her past with her father, Gildarts, reflects on what she did to Lucy and obtains Fairy Glitter, one of the three Great Fairy Magics, and heads out to save Lucy.
Summary
Bluenote demands to know the whereabouts of Mavis' grave from Natsu's group. He oppresses them with his Gravity Magic when they refuse to inform him.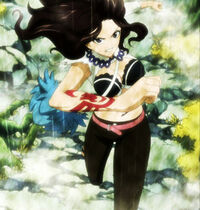 Cana tries to touch the shining grave, but its seal prevents her. She recounts her past with her father, Gildarts, and how only passing the exam would make her worthy enough to confess that she is his daughter. As she remembers this, her Help Lucy Card starts flashing, causing her to remember Lucy's kindness and to regret leaving her. Mavis' voice resounds from the grave upon sensing Cana's remorse and her will to protect her friends, and so the First Master bestows Cana with Fairy Glitter and urges her to go.
She storms in during the Fairies' struggle against Bluenote and attempts to hit him with her newly-acquired spell. However, she loses her balance. After apologizing, she asks Natsu to distract him while she recharges once more for another hit. Bluenote threatens to kill her in order to obtain Fairy Glitter, but due to Natsu's interference, she is able to have enough time and space to cast it.
At first, she seems triumphant. However, Bluenote's Fall causes her to lose balance once more, resulting to the failure of the spell. Enraged, Bluenote approaches Cana with the determination of killing her. But before he can deliver the final blow, Gildarts storms in, knocking Bluenote away and saving Cana.

Characters in Order of Appearance
Battles & Events
Magic, Spells, and Abilities used
Magic used
Spells used
Abilities used
Items used
Manga & Anime Differences
In the anime, Happy suggests that Bluenote wants to find Mavis' grave because he wants to become an S-Class Mage.
In the manga, Bluenote doesn't attack Happy and Lucy individually.
Cana's flashback in the anime shows more than in the manga.
The anime gives the reason of why Cana learned Magic Card.
The Help Lucy Card continually says "Help!" in the anime.
The summoning of Fairy Glitter looks different.
Community content is available under
CC-BY-SA
unless otherwise noted.