Diabolos (ディアボロス Diaborosu) is a Guild of dragon eaters in Guiltina.[1]
Overview
The Diabolos guild are a Fifth Generation Dragon Slayer-only Guild, known as "Dragon Eaters" who aim to hunt and devour Dragons to become stronger.[2] So far based out of the Northern continent Guiltina, the exact amount of members are unknown but they are said to have a surplus of members, with their master being Georg Reizen.[3]
Location and Building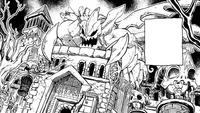 Diabolos' exact location is unknown. However, its guild building has been shown. The building itself appears to be worn down with dead trees, and skulls with candles inside them can be found near its entrance. Topping the whole structure is a massive statue of an insect like monster with its head facing the entrance while one of its wing like features has been broken.[4]
Members
References