The Vow of the Doors is the 534th chapter of Hiro Mashima's Fairy Tail.
Jellal attempts to hold off Acnologia as Anna continues to open the Space Between Time to no avail as Zeref, who sealed it off, uses the power he gained from Fairy Heart to connect it to the doors of Fairy Tail. Meanwhile, Lucy fixes a part of the Book of E.N.D. which allows Natsu to stand once more but causes an unexpected consequence to fall upon her.
Summary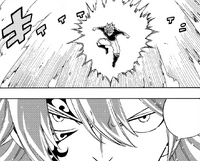 Hoping to distract Acnologia, Jellal jumps out of the airship and activates Meteor, ramming himself into the Black Dragon's neck; however, the latter merely consumes his magic and manages to split the sea in half with his roar, troubling the Blue Pegasus Mages. Concerned about her comrade, Erza hurriedly questions Anna on her progress, but to the latter's dismay, all her attempts are met with failure, as the Space Between Time refuses to open. Frustrated, Anna wonders aloud if someone is purposely keeping it sealed.
Back at the Fairy Tail guild, Zeref stands over the unconscious Natsu and Mavis, preparing to put his plan into action by connecting the Space Between Time to the guild's entrance. The Black Wizard resolves to save the world by going back in time while retaining his current memories, planning to use that advantage to fix his past mistakes. Elsewhere, Lucy, Gray, and Happy watch as a few letters from the book of E.N.D. disappear, causing the latter two to question Lucy of its meaning. The Celestial Spirit Mage replies that Natsu has recieved a fatal injury, but assures her friends that she can heal their guildmate by rewriting the letters.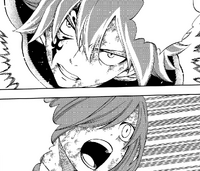 As the battle with Acnologia continues, Anna looks in shock as she realizes that the Space Between Time has been opened by someone else's power. She tells the crew to continue the plan; however, Ichiya points out that the nothingness is actually visible. As Acnologia begins to take notice of the Space Between Time, the Blue Pegasus members panic, realizing that their plan is now in jeopardy, but Jellal assures them that he can keep the Black Dragon distracted. Although Anna protests that it's too risky, the Crime Sorcière Mage argues that they have no other option as Erza screams his name in terror.
Zeref prepares to enter the Space Between Time, but is suddenly halted by Natsu, who recalls the late Makarov making him vow to always return to the guild and live. At the same time, Lucy proceeds to continue rewriting the Book of E.N.D.; however, she stops midway, freezing as veins start to form on her skin while Gray and Happy yell for Lucy to get a hold of herself.
Characters in Order of Appearance
Battles & Events
Magic, Spells, and Abilities used
Magic used
Spells used
Abilities used
Armors used
Items used