Gray's Trump Card is the 522nd chapter of Hiro Mashima's Fairy Tail.
While August faces Gildarts, the confrontation between Zeref and Gray leads the former to reveal his ultimate goal, something his own soldiers are unaware of. However, steadfast in his resolve to end Zeref's reign of terror without harming his friend, Gray prepares his trump card.
Summary
In Fairy Tail's Guild building, Zeref reveals his knowledge of Gray's past and mentions that he has information about all of his major opponents, prompting the Fairy Tail Mage to inquire about Zeref's own agenda. The Black Wizard initially appears reticent to reveal his motive in gaining Fairy Heart, but soon discloses his true ambition.
Elsewhere, Gildarts attempts to overwhelm August with a combination of his immense agility, Crush and skills in melee combat, finally managing to disassemble August. However, the Wizard King appears unperturbed and reconstitutes himself even as he sends Gildarts flying with a mere punch. August then proclaims Gildarts incapable of defeating him, but is surprised by an attack from Cana, who confidently states that her father is known for his ability to achieve the impossible. But August is simply interested in the fact that he is now facing a father and his daughter.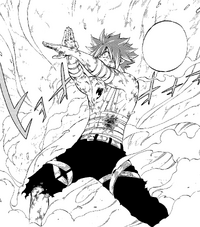 Back in the Guild, Gray is staggered to learn the Emperor's ultimate objective, with the latter further announcing that he is the first to know of it, although the knowledge would prove useless as he will be dead by the time Natsu arrives at their location. Zeref plans to use the stimulus of his best friend's death to have Natsu go berserk in their final bout, but Gray states otherwise. Amused, the Black Mage reasons that Gray would not be able to kill him not only due to his own immortality, but also due to the dependence of Natsu's life on his own, only to be surprised when Gray claims that despite Natsu's true identity, the Dragon Slayer will always remain a friend whom he treasures. Zeref suddenly appears uncertain of his victory as the disciple of Ur assumes the pose for casting Iced Shell, proclaiming that his life has been saved too many times for him to abandon it without considering the effects of such an action on his friends, which is why he has combined the sacrificial spell with the lost attribute so that his very existence, including the memories his comrades have of him, will be erased to seal Zeref.
Characters in Order of Appearance
Battles & Events
Magic, Spells, and Abilities used
Magic used
Spells used
Abilities used
Weapons used
Items used
Community content is available under
CC-BY-SA
unless otherwise noted.