Show Me Your Smile is the 519th chapter of Hiro Mashima's Fairy Tail.
Erza destroys Deus Sema, and then turns her blade on Irene, being able to hurt her because of Wendy's Dragon Slayer Magic Enchantment. Though Irene finds herself poised to kill her daughter after the fact, she sees Erza's smile and then decides at the last second to commit suicide, and thinks to herself that she could not will herself to enchant her newborn daughter. With her last breath, Irene decides to tell Erza that her smile caused her to remember how much she loved her.
Summary
Defying Irene's expectations, Erza destroys Deus Sema; Irene tells Erza, however, that in spite of her destruction of a meteor, she cannot pierce Dragon scales. In response, Wendy wakes up just in time to enchant Erza's sword with Dragon Slayer Magic, which allows her to deal a critical wound. While her daughter falls to the ground, Irene reverts to her human shape and picks up Erza's sword; pointing it at her daughter, she tells Erza to prepare for death. Before she can deal the finishing blow, Irene sees Erza smile and thinks back to when she was born, and how her daughter's smile brought her to tears. Disturbed, Irene demands that Erza stop smiling, but her daughter opts to impale herself on her own sword in order to deal Irene a headbutt.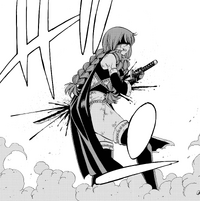 Erza falls back to the ground, even more wounded than before, and looks for her sword, which Irene reveals to have once again taken. Calling Erza too soft and brandishing her sword as a form of goading, Irene surprises both of her opponents by turning the sword on herself. Calling herself pathetic for being unable to kill her daughter despite being the Empire's most powerful woman. When Erza asks why, Irene thinks to herself that she would never believe the truth: that she loved her daughter too much to be able to go through with the Enchantment. Irene internally reveals that she dropped her off in Rosemary Village out of fear that her love would one day fade, and that she would attempt the Enchantment at some point. As she falls, Irene's last words to Erza explain that it was her smile that made her remember just how much she loved her, and thus rendered her unable to perform the killing blow.
Characters in Order of Appearance
Battles & Events
Magic, Spells, and Abilities used
Magic used
Spells used
Abilities used
Armors used
Weapons used
Community content is available under
CC-BY-SA
unless otherwise noted.