The Broken Bond is the 506th chapter of Hiro Mashima's Fairy Tail.
While Mavis continuously grieves at the death of her godson, Laxus reminds her they still need her wisdom in order to not let Makarov's sacrifice go in vain. Meanwhile, Natsu and Gray viciously continue their brawl, closing in on one another but are stopped by Erza, who sheds tears at their foolish dispute.
Summary
With Makarov now deceased, Mavis buckles to the ground and despairs after recalling the day he was born and she named him; with everyone else grieving as well, Laxus appears and tells Mavis that she needs to stand up and give her attention to the enemies for not only their sake, but for Makarov's as well, and so that they may win. Erza, meanwhile, prostrates herself in front of Makarov's lifeless body and thanks him for everything he's done for her. Concurrently, Zeref questions Irene about the status of their forces, where he learns that Makarov eliminated between seventy and eighty percent. He commends Makarov for using the Magic that he taught Mavis all those years ago, but Irene interjects, explaining that the Spriggan 12 that remain were unaffected, and that the tide of the battle remains largely unchanged.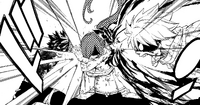 Elsewhere, Natsu and Gray continue their battle, with Natsu manhandling Gray and the Devil Slayer responding in kind by firing ice projectiles at Natsu to, largely, no effect. Gray takes advantage of Natsu's distracted state to pull a sneak attack, and Natsu counters by firing pillars of fire out of the ground that Gray freezes. A well-timed Fire Dragon's Roar sends Gray flying; Gray traps Natsu in an a small enclosure made of ice and tries to impale him, but Natsu breaks easily breaks free. The two angrily clash fists before reeling back and trying to strike each other with fatal blows. Before they make contact, Erza steps in the way and blocks their strikes with her bare hands, and tearfully asks the two what they think they're doing. Natsu and Gray, seeing Erza shed tears, are taken aback by her presence.
Characters in Order of Appearance
Battles & Events
Magic, Spells, and Abilities used
Magic used
Spells used
Abilities used
Armors used
Weapons used
Community content is available under
CC-BY-SA
unless otherwise noted.