Trump Card is the 505th chapter of Hiro Mashima's Fairy Tail.
Opposed by the Scarlet Despair herself, she goes to enchant the entire battlefield's soldiers that go on a rampage upon the Fairy Tail Mages. Seeing his children being brutally overwhelmed, Makarov decides to use Fairy Law to abolish the creatures, however with the price of his life being taken in the midst of it.
Summary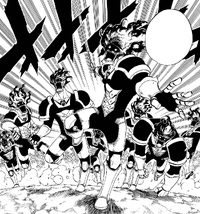 Looking down at the battle, Irene enchants the Alvarez soldiers currently engaged in battle against Fairy Tail into Berserkers. Her spell increases their battle prowess, but at the cost of removing their cognitive function and making them appear monstrous. The mindless warriors then begin to overwhelm Fairy Tail, Erza included, prompting Irene to taunt Mavis with her next move; as they continue to struggle, Fairy Tail finds out that the Berserkers also do not feel any pain. Makarov begins to lose hope, but when Erza reinstills the idea that they will all return to the guild together, Makarov assumes the stance for Fairy Law (exclaiming that his journey is now at an end), which raises everyone's hope, but Mavis arrives and tries to stop him from casting the Magic, as when he does so, it will shave away at what remains of his life and kill him.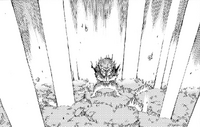 Makarov states that he is well aware of the fact but asks that she not try and stop him; Mavis begins to explain that she has a plan to guarantee their success, but Makarov angrily silences her. He goes on to exclaim that even if Mavis views the guild members as soldiers to move around, to him, they are his children and they are being beaten. Makarov also admits that he knows that if they follow Mavis' plan then they will win, but he cannot stand to see his children have their blood spilled any longer, and that if the last few years of his life can ensure the longevity of theirs, then his choice is easy. The Wizard Saint says his goodbyes to Erza and the rest of the guild, instilling them with words of hope, and thanks them for making his life a happy one. Makarov says goodbye to them all and invokes Fairy Law, which engulfs the entire battlefield in its light and eliminates the Berserkers. When the light subsides, the Fairy Tail members scattered about the battlefield wonder what the light was; Erza, meanwhile, drops her sword and cries at the sight of Makarov's body, which has become a mere husk, frozen in Fairy Law's invocation stance.
Characters in Order of Appearance
Battles & Events
Magic, Spells, and Abilities used
Magic used
Spells used
Abilities used
Armors used
Weapons used
Community content is available under
CC-BY-SA
unless otherwise noted.