Gray and Juvia is the 499th chapter of Hiro Mashima's Fairy Tail.
Although reluctant to harm the other, Gray and Juvia are pitted in a deathmatch against each other by Invel, who plans to have Gray eliminate E.N.D. to liberate his Emperor from his emotional bonds. However, his plans are seemingly foiled as the two attempt a double suicide, only for Juvia to sacrifice her life to save Gray's, who is overcome by a cold fury as he faces their tormentor.
Summary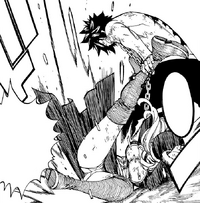 As his Ice Lock robs Gray and Juvia of their free will, Invel calmly orders them to fight each other to the death, as they will be free when one of them dies. Despite their abhorrence at the idea of harming a guildmate, the two Fairy Tail Mages engage in mortal combat, with Gray easily gaining the upper hand. As he witnesses the Devil Slayer overwhelm Juvia, Invel thinks back to the times he has seen his sovereign engrossed in fond memories of his brother. To destroy the emotional bonds restraining Zeref, Invel regards Gray's descent into darkness as the perfect opportunity to mold him into a warrior to defeat E.N.D.
Simultaneously, even as she attempts to bear Gray's onslaught, Juvia realizes that the only way to end the battle without harming her beloved or having him bear the guilt of her murder would be to commit suicide. Gathering the remnants of her rationality, she openly defies Invel and impales herself, only to find that Gray has performed the same action. As the two express their wish to protect each other and fall unconscious, Invel watches on in disbelief, astounded that they would sacrifice themselves rather than kill each other. Resigned to the failure of his plan, he decides to kill E.N.D. by himself. However, as the Winter General withdraws, Gray finds his consciousness returning slowly as Juvia's blood replenishes the stock he has lost, the Water Mage having learned a blood transfusion spell to avert any catastrophe that might befall him. Her belief that she will live on inside Gray and that her life will always belong him is no comfort to Gray, who mourns her sacrifice, and promises to take Juvia's feelings more seriously if she returns to him. Later, as rage overtakes him, Gray heads towards Invel, the latter giving up his search for Brandish when he senses, and sees, his revived foe heading towards him.
Characters in Order of Appearance
Battles & Events
Magic, Spells, and Abilities used
Magic used
Spells used
Abilities used
Community content is available under
CC-BY-SA
unless otherwise noted.