The Winter Wizard is the 497th chapter of Hiro Mashima's Fairy Tail.
With the removal of Fairy Heart in motion, Neinhart informs Irene that they've located Erza; Irene tells him to kill her himself. As the battles against the Spriggan 12 and Alvarez rage on, Invel descends upon the battlefield, freezing everyone in his path except for Gray, whom he overwhelms in a battle of Ice Magic.
Summary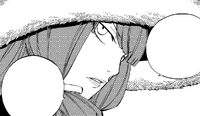 In the guildhall, Irene begins the painful extraction of Fairy Heart from Mavis, taunting her as she does so. Zeref then enters the guildhall and asks Irene how long the extraction will take, which Irene explains is a delicate process due to the nature of Fairy Heart. When Zeref says he doesn't want Mavis to suffer, Irene warns Zeref that he needs to abandon his childish emotions if he wants to defeat Acnologia. Zeref agrees with her logic and moves to leave the guildhall, but not before crossing eyes with a tearful Mavis, whose silent pleas he ignores. As he leaves, Neinhart enters and tells Irene that Erza is alive; Irene tells Neinhart to kill her, but when he says that his Historia of the Dead is ineffective against her, Irene tells him that all he need do is remember who he truly is.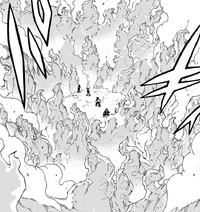 Concurrently, the various fighting Mages all lead their own various offensives, either against the Alvarez soldiers or against the members of the Spriggan 12. Natsu's small team of himself, Lucy, Happy, Gray and Juvia moves forward, but when Natsu fires off his Fire Dragon's Roar, it freezes solid, an act which he incorrectly blames on Gray. The temperature in the area then readily drops, and despite Natsu trying to heat the area with his fire, he and everyone present, sans Gray, is frozen solid by the descending Invel, who is fascinated by Gray's resistance to the cold. Gray goes to attack Invel, but is overwhelmed on multiple accounts by the man's Ice Magic. As the Winter General introduces himself as Invel Yura, Gray realizes that Invel's Magic is making him feel like he's going to be frozen solid. Meanwhile, in the guild, Mavis silently pleads for someone to defeat Invel before she loses what remains of her mind.
Characters in Order of Appearance
Battles & Events
Magic, Curses, Spells, and Abilities used
Magic used
Curses used
Spells used
Abilities used
Armors used
Weapons used
Community content is available under
CC-BY-SA
unless otherwise noted.