Forward!!!! is the 496th chapter of Hiro Mashima's Fairy Tail.
With Gildarts leading the charge, he blasts back God Serena as a declaration against Alvarez; the Ishgar warriors following his cleared pathway to the guild. More of the Spriggan 12 make their move, engaging the resistance in a battle they've have yet to ever face.
Summary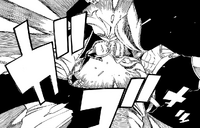 Everyone rejoices at Gildarts' return while the man stares down an angered God Serena. Gildarts, however, becomes distracted by his daughter, who reprimands him for turning away from an enemy. Gildarts immediately snaps his attention back to the former Wizard Saint, but explains that God Serena is dead, and that his current Magic Power is a mere fragment of what it used to be. However, an amused God Serena likens Gildarts' words mindless blathering, and the powerful Mages clash. Meanwhile, Romeo expresses his fear of fighting Alvarez to Wendy, who tries to comfort him until Ajeel decides to enter the battle by blinding his enemies with Sand World. Elfman negates the spell with his Beast Soul: Sand Beast, but he is caught in one of Ajeel's traps, forcing him to be rescued by an arriving Lisanna. Jacob, watching this, prepare to fight as well until he is singled out by Mirajane, whose exposed cleavage renders him unable to concentrate on the battle.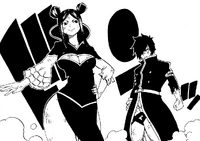 Concurrently, Wall and Bloodman mobilize, but the two are halted by Rogue and Minerva, who reveal that they managed to arrive thanks to the help of Kinana. Rogue manages to reunite with Frosch and tells Lector not to worry about Sting, even though they were separated by Universe One; Rogue and Minerva notice that Wall and Bloodman are dead, as their Magic Power is different than it should be. Minerva asks the nearby Yukino to locate their conjurer, and wonders aloud who the swooning Sorano is. Natsu, on his end, continues to try and break through the one-million-strong Alvarez army as Gildarts and God Serena's battle comes to a close, with Gildarts managing to easily defeat the weakened man and clear a path for his guildmates to run through. The guild charges forward together, with Romeo casting his fear aside and bravely charging alongside them, earning him praise from Natsu and Gray. However, from a ledge above the jubilation, Invel watches Fairy Tail's advance with an icy glare.
Characters in Order of Appearance
Battles & Events
Magic, Spells, and Abilities used
Magic used
Spells used
Abilities used
Armors used
Weapons used
Community content is available under
CC-BY-SA
unless otherwise noted.