I'm Hungry is the 495th chapter of Hiro Mashima's Fairy Tail.
With their determination set for tomorrow, the Ishgar warriors begin their clash with Alvarez. God Serena appears to impede their progress, but the Dragon Slayer is met by Gildarts, who has come to the aid of his guild.
Summary
After waking up, Natsu, Lucy, Gray, Erza, Happy, and Juvia look at the situation from a hill. Seeing Alvarez's numbers, Erza suggests they formulate a plan, however Natsu rejects this, reminding them that their guildmates are coming as well. Lucy and Juvia wonder if Zeref is in the guild with Mavis, and upon hearing this, Gray challenges Natsu to see who can defeat Zeref first. Natsu happily accepts before his stomach rumbles loudly, annoying Gray. Happy remembers Zeref's warning, however, he shakes the thought off, confident that they can find a way to defeat Zeref and still keep Natsu alive. With everything decided, the six run into battle and start landing their attacks on the dumbfounded Alvarez soldiers, despite their efforts to overwhelm them with numbers alone.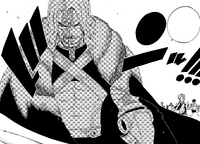 Wendy then enters the battle with Carla carrying her, as the former apologizes for their late arrival, taking out a few soldiers with her Sky Dragon's Roar. Elfman comes, attacking the army with Beast Soul: Ape, bringing Yukino, Sorano, Lector, and Frosch, who decide to help; Makarov's group (minus Mirajane and Lisanna) arrive next. Before they can continue their advance, in the distance, eight large Dragons manifest from the ground, signaling the arrival of Eight-Dragon God Serena, who targets the Mages with Purgatory Dragon's Blazing Hell. Natsu eats the flames, prompting God Serena to use Sea King Dragon's Encircling Deluge to render his ability to eat inert. God Serena then fires his Gale Dragon's Song of the Wind and Moon, but the Magic is destroyed by a newly arrived Gildarts. With everyone reveling at his return, Gildarts tells an angered God Serena to step aside and let him through to the guild, as he is hungry.
Characters in Order of Appearance
Battles & Events
Magic, Spells, and Abilities used
Magic used
Spells used
Abilities used
Armors used
Weapons used
Items used
Community content is available under
CC-BY-SA
unless otherwise noted.