Mother and Child is the 491st chapter of Hiro Mashima's Fairy Tail.
On Tenrou Island, Zera informs Gajeel about their situation after Mavis' revival and the casting of Universe One. Elsewhere, Makarov's group fights the Empire's forces on a beach, while Natsu's group meets Gray's group near Mercurius, inside which Irene suddenly becomes aware of Erza's presence. After her talk with Gajeel, Zera telepathically contacts the Fairy Tail Mages in order to rally them to protect Mavis.
Summary
Upon awakening, Gajeel is confronted by Zera, who shyly introduces herself and reveals that Gajeel was saved from Bloodman's clutches due to being randomly teleported to Tenrou Island by Universe One. When Gajeel claims ignorance regarding her identity, Zera explains that she is a manifestation born due to Mavis' subconscious being reset after her real body was freed. However, she also believes that her existence will end when Mavis remembers her. She then gleefully points to Gajeel's ability to perceive her as a sign of Mavis' growth, but immediately becomes serious again and promises to help Fairy Tail when the Dragon Slayer states that he has business elsewhere.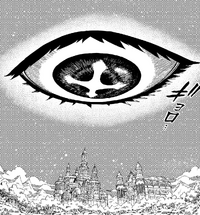 Natsu, Happy and Lucy find themselves stranded in the vicinity of Mercurius and Kardia Cathedral, the two buildings now adjacent to each other due to the effects of Universe One. Although unable to locate their Guild, they soon stumble upon Gray and Juvia, the former carrying an unconscious Erza on his back. Simultaneously, inside the palace's throne room, Irene stands victorious over the guards, and idly toys with the royal family by transforming Hisui into a mouse; however, she quickly tires of them when Toma expresses determination to restore his daughter rather than abhorrence towards her form. Suddenly, the witch senses an unsettling presence and uses her Magic to search the surroundings. She soon lays eyes on Erza, whose scarlet hair seems to shock the High Enchanter.
Elsewhere, the remaining Fairy Tail Mages engage in combat against enemy troops, easily overwhelming them until the advent of the Irene Squad. While Juliet wishes to take out Makarov first, Heine suggests otherwise and the two finally decide upon Mirajane as their prey. Meanwhile, Cana urges Warren to detect their Guild's location, the female desperate to return to Mavis' side. At that moment, all the Guild members are telepathically contacted by Zera, who directs them towards their Guild and begs them to protect their First Master.
Characters in Order of Appearance
Battles & Events
Magic, Spells, and Abilities used
Magic used
Spells used
Abilities used
Weapons used
Items used