Fairy Tail ZERØ is the 490th chapter of Hiro Mashima's Fairy Tail.
Unaware of Universe One, Mavis arises from the chaos as she enters the guild hall only to be shockingly met by Zeref. All across of the Fiore, the structures, geography, and people have been reorganized, baffling the inhabitants who find themselves in totally different locations. Elsewhere, in an unknown location, an apparition appears in front of Gajeel, turning out to be none other than Zera.
Summary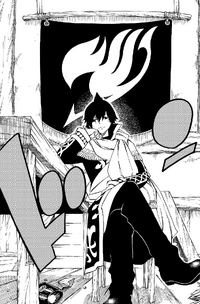 As Irene's Magic envelopes all of Fiore, Mavis dreams about Zera's departure before waking up. Mavis calls, albeit to no avail. Using her Magic to create illusional clothes for herself, she enters the guild hall, only to be met by Zeref, who smirks and questions how she is alive.
Meanwhile, Fairy Tail Mages, as well as all the other residents of Fiore, have been scattered due to Irene's Magic. Tending to August's wounds, Brandish shrinks the former's wound to a negligible size, wondering if he's behind the situation, to which August denies, informing her that it's all Irene's doing, and that she managed to alter Fiore's geography, shocking Brandish. August then wonders whether Irene's trying to end to war more quickly by separating Acnologia from Zeref as much as possible.
Back at Fairy Tail guild hall, Zeref explains the current situation to Mavis, revealing that Irene both changed and shrunk Fiore's geography. He then starts walking towards Mavis until they are standing face-to-face. Zeref feels thankful for Irene's efforts to have him relocated to Fairy Heart, earning him a glare from Mavis.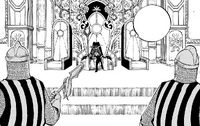 At Mercurius, Irene finds herself sitting on the King's throne, pleased by the effect of casting the ancient Magic for the first time. She then turns to the confused Royal Family and inquires of her location, as she herself does not know. However, she only receives threats from soldiers asking for her identity. Concurrently, as chaos and disorder arises, Gajeel finds himself in some unknown location, and remembers his battle with Bloodman. Believing he is dead and in the underworld, Gajeel asks a misty form arising from the water if she is a resident of such a place, too. In response, the mist transforms into Zera, one of the very first fairies.
Characters in Order of Appearance
Battles & Events
Magic, Spells, and Abilities used
Magic used
Spells used
Abilities used
Items used
Trivia
This chapter title also shares the same title as Hiro Mashima's side story and prequel manga to the Fairy Tail series: Fairy Tail Zerø.
Community content is available under
CC-BY-SA
unless otherwise noted.