The Two of Us, Forever is the 488th chapter of Hiro Mashima's Fairy Tail.
In defeat, Bloodman commits double suicide as he drags Gajeel to the underworld with him, saddening Levy and Lily into complete despair. Meanwhile, Irene challenges The Dragon King himself, while in the negotiations, Mest brainwashes Brandish into stabbing August, who prepares to deal with the very ones who oppose him.
Summary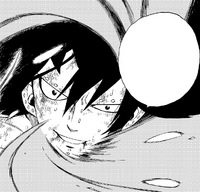 Gajeel finds himself being sucked up by a portal to the Underworld. Bloodman tells Gajeel that he can never return from the Underworld before dying, and a desperate Levy calls out for Gajeel and runs to him. Gajeel tells Levy that she'll die as well if she tries to touch him, and chains her to a rock in attempt to stop her from reaching him. However, Levy simply uses Solid Script: Sword to break free, but is held back by Panther Lily. Gajeel expresses his love for Levy, saying that because of her, he became a better person, and started thinking of things he thought he'd never bother to think about before. He entrusts his future to her, telling her to live on, before the portal swallows him completely and disappears, causing Levy and Lily to scream and burst into tears.
Elsewhere, Acnologia states that there are now six Dragon Slayers left, before being confronted by Irene. Irene chuckles, confirming Acnologia's goal, with him ordering her to move out of the way. Irene simply refuses, answering him with a smile and acknowledging him with an honorific. Acnologia asks Irene if she will be able to provide him with even a moment's entertainment, with Irene assuring that she won't disappoint. At the same time, Brandish tries to convince August to listen to the Fairy Tail Mages, and after some persuading, succeeds. Delighted, Brandish calls August her grandpa, with the elder questioning this. Brandish suddenly moves towards him slowly, then uses her Magic to enlarge her dagger and stabs August. The Fairy Tail mages are shocked, and Mest reveals that he altered Brandish's memories so that she will kill August. Furious, Natsu grabs Mest and sparks an argument with him, but they are interrupted by August, who prepares his magic, refusing to negotiate any further.
Characters in Order of Appearance
Battles & Events
Magic, Curses, Spells, and Abilities used
Magic used
Curses used
Spells used
Abilities used
Weapons used