Seven Stars is the 483rd chapter of Hiro Mashima's Fairy Tail.
With Erza clinging on for life, Jellal vows that the seven stars will pass judgement down on Neinhart, demolishing the latter. At the same time, the Mages battling in Hargeon Town overcome their own Historias in a display of strength and solidarity. Meanwhile, in Magnolia, Natsu decides to take on August, before Brandish reveals the identity of the Spriggan 12's strongest woman: Irene Belserion.
Summary
As Kagura begs Erza to wake up, a determined Jellal states that he will commit one more sin, and surprises Neinhart, Kagura, and the Mages in Hargeon when the sky turns dark, revealing stars upon. At the same time, Juvia and Meredy take action, and share a Sensory Link to amplify their power. Somewhere else, the members of Mermaid Heel continue to fight, while Gray and Lyon attempt to defend themselves from Ur's attacks, with Gray admitting his mistakes and the fact the Ur is dead because of him. Lyon tells Gray he's come a long way, and that he's surpassed Ur, prompting Gray to tell him that they must move on. The two then prepare to take down a smirking Ur. Concurrently, Wendy is saved from Ezel by Carla who tearfully states that the two will always be together. Meanwhile, Laxus berates Hades for his past deeds, and angrily decides to finish his opponent once and for all. All the Mages gather up their strength and defeat their respective Historias.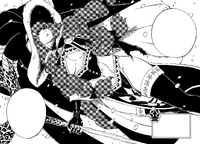 Back on the ship, Jellal is blackmailed by Neinhart, who summons Simon once again. However, he is cut down by Kagura, who resolutely declares that such an entity is not her brother. As she encourages Jellal to proceed, the latter defeats Neinhart with his spell, Grand Chariot. As the Mages of Hargeon celebrate the liberation of the town, while the Fairy Tail Mages back at the guild ponder on what to do, as August is on his way to them. Natsu, Lucy, and Happy volunteer to go, which sparks an argument between Makarov and Natsu. They are interrupted by Brandish, having been released by Natsu. She states that while August is the strongest man of the Spriggan 12, the strongest woman is of the same magnitude, revealing her identity: Irene Belserion, known as the Scarlet Despair.
Characters in Order of Appearance
Battles & Events
Magic, Spells, and Abilities used
Magic used
Spells used
Abilities used
Weapons used
Armors used
Trivia
According to Hiro Mashima, the chapter title "Seven Stars" refers to the seven people that appeared before Jellal cast Grand Chariot: Gray, Lyon, Wendy, Carla, Juvia, Meredy, and lastly Laxus.[1]
References
Community content is available under
CC-BY-SA
unless otherwise noted.