The One Most Respected is the 479th chapter of Hiro Mashima's Fairy Tail.
In the west, Invel rallies the troops after informing them of the fall of five of the Spriggan 12, while Zeref drops his trepidation, fully intending to crush his brother and former lover. In the guildhall, Jacob threatens to assassinate the guildmates of Natsu and Lucy, but from the quick thinking of the Celestial Spirit Mage, she outwits Jacob into releasing their comrades, letting Natsu proceed to finish off the assassin.
Summary
In the mountainous area, the Alvarez western army led by Zeref (in his new attire) has decided to mobilize again to attack Fairy Tail in order to obtain Fairy Heart. Invel recommends that they not underestimate any other Mages on the continent, because of Natsu's attack, as well as informing them that five of the Spriggan 12 have fallen. In his thoughts, Zeref remarks that one of them was defeated by Acnologia but soon acknowledges that since nothing can stop him now then he will carry out his plan to destroy everything.
At the guildhall, Natsu and Lucy are still fighting with Jacob, who manages to overwhelm the two with a combination of his Magic and hand-to-hand combat. After knocking the Mages away, Jacob resolves to kill their still-trapped guildmates; Natsu calls Jacob on his bluff while Mavis offers vehement protest, but Jacob ignores them. However, Lucy points out that Brandish was captured as well, which Jacob checks and confirms, and he releases both her and Marin. Marin, after thanking Jacob, notices that there is a second version of himself right in front of him; revealed to be Gemini, summoned by Lucy, Gemini copies Marin's Rules of the Area and uses it to negate all Spatial Magic in the vicinity, which cancels out Transport and frees the captured guild members.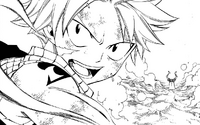 Everyone congratulates Lucy on her quick thinking whilst a livid Jacob tries to use Transport again to take everyone back, but is stopped by Happy. An angry Makarov then approaches Jacob and tells him that on "Respect for the Aged Day," the one he should respect most is Mavis, after which he punches him through the guild's walls with help from his Magic. Makarov then grabs a damage-protesting Natsu and throws him after Jacob, which Natsu uses as an opportunity to release his full power. Evaporating a lake with the intense heat emitted from his body, Natsu activates Fire Dragon King Mode and defeats Jacob in one hit with Fire Dragon King's Demolition Fist, all as his guildmates cheer him on.
Characters in Order of Appearance
Battles & Events
Magic, Spells, and Abilities used
Magic used
Spells used
Abilities used
Items used
Community content is available under
CC-BY-SA
unless otherwise noted.