Laxus vs. Wall is the 472nd chapter of Hiro Mashima's Fairy Tail.
While the Sky Sisters stand against Dimaria and Kagura and Erza head for the harbor to take on Neinhart, Laxus squares off against Wall, the two seeming evenly matched despite the decaying state of the former's body. However, the Dragon Slayer suddenly begins to suffer from the adverse effects of his condition just as his opponent transforms into his serious personality.
Summary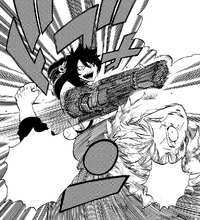 Laxus joins the battle for Hargeon by engaging Wall in combat. The effects of their epic confrontation are seen across the battlefield, distracting even Lyon. But Gray calmly explains that showdowns involving Laxus are always flashy and they return their attention to their own fights. As Laxus and Wall brawl, the Machias tries to analyze Laxus, only to realize that the Dragon Slayer's internal organs show signs of massive deterioration. Impressed by his opponent's toughness, the Shield of Spriggan nonetheless mocks Laxus' determination and flaunts his own immunity against lightning.
Simultaneously, Erza helps Mermaid Heel mow down the Alvarez Empire's soldiers. Kagura informs her of the presence of a third Shield of Spriggan near the harbor and the two decide to leave the minor enemies to their allies while they push on to challenge the unknown opponent. Elsewhere on the battlefield, the Sky Sisters reunite and Sherria is presented with Wendy's spare clothes to hide her nudity. As the trio faces the Warrior Queen, the woman suggests that the children remove themselves from the danger zone. But her advice is scorned as Wendy adamantly states that they will wrest back control of Hargeon, causing the female warrior to accept their challenge with a promise to show no mercy.
Laxus and Wall's clash continues on an even footing; however, as soon as the latter finishes analyzing Laxus, he realizes that, despite his body's unbelievably bad state, Laxus could defeat him if he continued to remain in his frivolous personality. He immediately overwrites his current personality setting with a battle-oriented one and transforms into his Assault Mode. Facing Wall's enhanced form, Laxus body suddenly begins to fail him, causing him to curse his situation as Wall prepares to finish him.
Characters in Order of Appearance
Battles & Events
Magic, Spells, and Abilities used
Magic used
Spells used
Abilities used
Armors used
Weapons used
Community content is available under
CC-BY-SA
unless otherwise noted.