Black Carpet is the 463rd chapter of Hiro Mashima's Fairy Tail.
While Fairy Tail discusses how to respond to Natsu's reckless move of charging alone at the army led by Zeref himself, the Dragon Slayer reaches his objective and immediately begins his attack. The soldiers fail to stop his rampage and almost a thousand are blown away in minutes. However, this havoc is brought to an end as Zeref himself appears before Natsu, the two preparing for their showdown.
Summary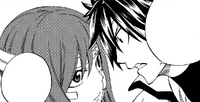 Fairy Tail is thrown into turmoil as Natsu's latest exploit is revealed: Flying to the west with Happy's help to face Zeref head-on. Gray and the others condemn his thoughtless actions and attempt to change their strategy, but Erza opposes them and expresses her belief in Natsu's decision. Gray angrily closes in on her, stating that she has too much faith in their friend, but the knight retorts by questioning the Devil Slayer's lack of faith in Natsu. Lucy tries to ease the tense atmosphere by separating the two, while Mavis agrees with Erza, deciding to follow their original plan and simply hope that Natsu's plan to cut off their enemy's head works. Gray finally relents, blushing as he states that he is worried about Natsu facing such a tough opponent alone, whereupon Carla tries to reassure him by mentioning that Happy is present with Natsu.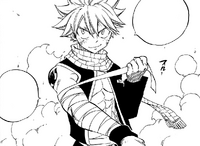 Meanwhile, Natsu finally reaches Zeref's army, marveling at the sheer number of soldiers in the force. He begins his assault and tells Happy to let him go, explaining that he intends to create a huge fuss to draw Zeref's attention. The Dragon Slayer immediately lets loose a flurry of attacks, the Alvarez Empire soldiers unable to deter his charge despite their overwhelming number of Mages. Devastated to see Natsu's power, the troops' resolve begins to falter. Suddenly, their emperor arrives on the scene, informing Natsu that he has defeated but a fraction of the massive army. When Natsu wonders why Zeref decided to face him so soon, the latter expresses his desire to confront Natsu as soon as possible, only for the Dragon Slayer to bid the Black Mage farewell as he begins to unravel the bandages binding his right arm.
Characters in Order of Appearance
Battles & Events
Magic, Spells, and Abilities used
Magic used
Spells used
Abilities used
Weapons used
Community content is available under
CC-BY-SA
unless otherwise noted.