This Perfume Goes To... is the 461st chapter of Hiro Mashima's Fairy Tail.
In Kardia Cathedral, the Thunder God Tribe is gravely injured while protecting Ichiya from the detonation of Wall's fake body. Meanwhile, Dimaria and Wall lead a fleet to conquer Hargeon. Finding the current situation funny as well as a blemish on the reputation of the Spriggan 12, the Machias fires a huge cannon right at Magnolia, but the attack is blocked by Christina piloted by Ichiya. As the ship goes down, the Mage sends out a message to all other Fiore Guilds to come to Fairy Tail's aid.
Summary
Standing victorious over the Machias that attacked Kardia Cathedral, Ichiya explains that he has been in Magnolia ever since Makarov's rescue from Alvarez Empire a week ago, refueling and restocking Christina. Suddenly, the members of the Thunder God Tribe realize that the defeated robot's head is about to detonate and save Ichiya by bearing the brunt of the explosion using their own bodies. The Blue Pegasus Mage is overcome by their declaration that he is part of their family and desperately begs for them to wake up.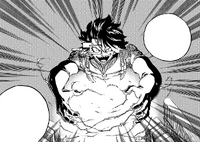 Elsewhere, Dimaria and Wall lead a fleet to capture Hargeon. The latter informs the Warrior Queen about the fall of their advance forces with the destruction of his own proxy, Ajeel's defeat and Brandish's capture. Dimaria snickers at Brandish's predicament, while both of the Mages praises Fairy Tail's abilities. Nevertheless, Wall decides to end things immediately by blowing up Fairy Tail itself; as he charges a huge cannon, Dimaria sarcastically mentions the huge distance between them and their target, however, the Machias is confident in his aim and fires.
In the Fairy Tail Guild building, Warren picks up the approach of the massive attack on his Magic Radar. With Freed unable to raise his barrier again, everybody enters a state of panic. In this moment of despair, Ichiya runs to the rescue, intercepting the shot with Christina at the cost of the ship. As the vessel crashes, he uses the Fiore Communications Network to contact the other Guilds and calls them to help protect their continent. Heeding his call, the Mages prepare to enter the fray.
Characters in Order of Appearance
Battles & Events
Magic, Spells, and Abilities used
Magic used
Spells used
Abilities used
Items used
Community content is available under
CC-BY-SA
unless otherwise noted.