Weakness is the 459th chapter of Hiro Mashima's Fairy Tail.
With Ajeel now out of the picture thanks to Erza and Bisca, Cana and Lucy simultaneously capture Brandish after a bout of hay fever (caused by the kicked up pollen, courtesy of Sand World) renders her open enough for Cana to knock her out. Meanwhile, Gray's group struggles with Wall Eehto and his Magic, Weakness, but he ultimately leaves them to take care of the Thunder God Tribe, who are pressured on immense levels until Ichiya arrives to assist them.
Summary
Left powerless after having defeated Ajeel, Erza falls from the airborne flagship, only to be saved by Natsu, who calls for Wendy to treat the fallen knight. Meanwhile, Brandish is overcome by hay fever due to the pollen which has been stirred up by Ajeel's sandstorm. Seeing her chance, Cana knocks out the Shield of Spriggan and takes her captive.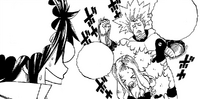 Elsewhere, Gray's team faces Wall Eehto, who reveals that he can analyze his opponents' strength and weakness and create robots to perfectly counter them. As the group is hindered by these formidable foes, Wall takes off in search of the Jutsu Shiki user and soon arrives at Kardia Cathedral, where he encounters the Thunder God Tribe. Bickslow and Evergreen immediately move to defend Freed, but Wall uses his Magic to create more automatons to hold them off. When the main Magic of the two Fairy Tail Mages is nullified, Evergreen tries to use her Stone Eyes on Wall, but the attack is rendered useless as he reveals himself to be a machine. Suddenly, a flash of lightning interrupts the fight. As everybody looks towards the source, Ichiya enters the fray with his Thunder Perfume.
Characters in Order of Appearance
Battles & Events
Magic, Spells, and Abilities used
Magic used
Spells used
Abilities used
Swordsmanship
Battle Mode Shift (戦闘モードシフト Sentō Mōdo Shifuto)
Steam Creation
Fire Creation
Mist Creation
Community content is available under
CC-BY-SA
unless otherwise noted.