Morning Star is the 458th chapter of Hiro Mashima's Fairy Tail.
Erza begins to finally gain the upper hand in her battle against Ajeel, only to find herself completely immobile when the latter begins to get serious. Although a sandstorm engulfs the entire battlefield, Erza manages to signal her location to Bisca. The marksman lands a direct hit on Ajeel with Jupiter, allowing Titania to finish him off.
Summary
Erza's battle against Ajeel begins to turn in her favor as her Sea Empress Sword and Wind God Sword provide her with the perfect counters to his Sand Magic. Enraged to see the Fairy Tail Mage able to actually hold her own against him, the Desert King summons a huge sandstorm which engulfs not only the ship they are fighting on, but also the entire battlefield, hindering foes and friends alike and even affecting the Osprey Squad, who are now unable to locate their targets and, thus, prevented from firing Jupiter again.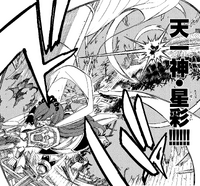 Awed to see the magnitude of the disaster, Erza finds herself unable to match her opponent, who proclaims himself a God when inside his Sand World. Grabbing hold of the Fairy Queen, Ajeel taunts her for her fear of the Alvarez Empire and tries to force her to revere him as a God, promising her a quick death if she obeys him. He also threatens to kill her slowly and painfully by draining her body of its moisture in case she opposes him, but Erza refuses to back down. Stating that her comrades will never fear their enemies even if they are Gods, she requips into her Morning Star Armor, shining brightly enough for Bisca to locate her. The sharpshooter immediately fires Jupiter at the light, scoring a direct hit upon Ajeel. Sent flying by the blast, the Shield of Spriggan is then defeated by Titania's Nakagami Starlight, bringing the massive sandstorm to an abrupt end.
Characters in Order of Appearance
Battles & Events
Magic, Spells, and Abilities used
Magic used
Spells used
Abilities used
Weapons used
Armors used
Items used
Community content is available under
CC-BY-SA
unless otherwise noted.